There are many artists that decide they have taken all they can musically from one place and move to another area to find more inspiration and maybe a more creative music scene.  Although the use of the internet has made it easier to make music from any part of the globe, there is still something to be said for being in a music mecca such as NYC, LA, or Nashville.  Our latest find made the move and now has the inspiration.  Let us introduce you to Nathan Asher.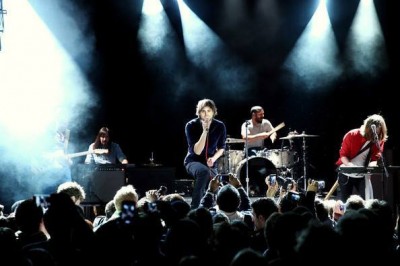 The talented artist (also known as Nate Plutzik) starting playing at a young age and took turns at many instruments such as piano, guitar, saxophone, bass, and synths.  He is also no stranger to the production scene and bounced around Washington, DC for a while before deciding to make the move to be part of the creative energy in NYC.  Nathan has been known to wander the city streets looking for inspiration and a story for his music.  He loves talking about music and has done interviews for NPR with huge bands like The Killers and Midlake.
Last week Nathan Asher released his 5 song EP titled In Between.  He did it all for this record, playing every instrument and even handling production.  The opening track 'Dance Me Till The End Of Love' shows right off the bat that this is no ordinary happy pop record.  There is even a feel of gypsy music through Nathan's use of instrumentation and interesting vocal phrasing.  A sensitive side becomes evident on 'Love You Anyway' as he uses mainly acoustic guitar and some piano with his voice drenched in reverb.  Nathan also sent us a track that didn't make the album but may be his most accomplished song.  'Lonely Street' is a melancholy song with an energy built in that is ready to explode out.  Deep feelings are shared here as the story progresses.

Nathan Asher's full catalog is a recommended listen.  Go dive in for yourself at:  https://soundcloud.com/nateplutzik