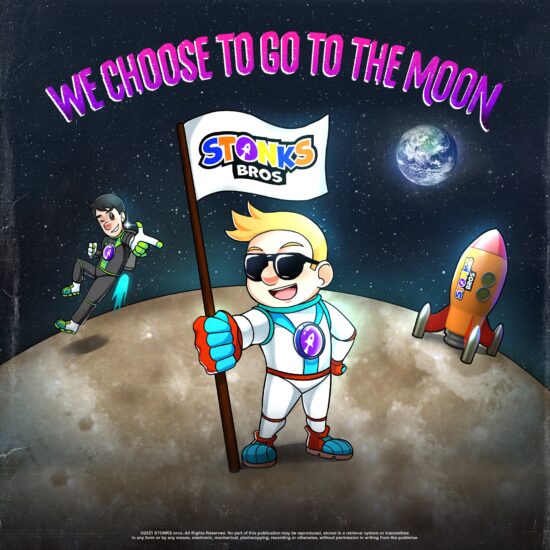 As a music video, there's something quite immersive and cinematic about "We Choose to Go to the Moon" from STONKS Bros, and it's not because of the psychedelic imagery alone. It could be that the beats and the frames are synchronized so well that it increases the flow of the music in general, or perhaps that the color scheme reflects the underlying sense of calm that the melodies riding these heavy beats are ultimately comprised of. No matter the case, this is every bit the visualizer I would expect for a song like "We Choose to Go to the Moon," and a document worthy of the STONKS Bros' growing brand.
These guys aren't exactly reinventing the wheel with the structure of the hook in this single, but I don't know that they need to for the song to sound like a real heavyweight. The beat has enough muscle to compensate for any formulaic feel to the synths, and though it could have been mixed a little tighter, I don't know that the atmospheric element resulting from this style of production is such a bad thing when put side by side with the other buzz-worthy club tracks in the press right now. 
The psychedelic influence here, as I noted at the start of this review, is obvious and difficult to evade, and it certainly helps the pulsating drums sound less like a buffer and more like an independent component of the hook. Rather than making something totally cohesive, STONKS Bros want to give us a jigsaw jam, and it's one that not only shows us how detailed they can be when they want to get crazy, but it also indicates that their evolution inside of the recording studio hasn't plateaued just yet. There's more for them to explore here, and this is the template for the odyssey. 
Aggressive and club-centric where and when it matters most of all, "We Choose to Go to the Moon" is the kind of single that makes you want to hit the city on a darker than average night just for the sake of finding a well-lit haunt to hang out in. After a couple of years without the beckoning dancefloor being available to the masses, this kind of a track is what STONKS Bros fans have been craving, and likely something newcomers to their sound are going to find just as intoxicating as a shot of over-proof liquor.