Indie Band Guru is a Music Review Blog and Artist Development Company focused on helping independent bands build their careers and get the exposure they deserve. Every band needs a little help. We have the Knowledge to get you Known!
The Indie Band Guru is here to help introduce you to great new independent music. We also provide tips on how to advance your own music career with promotion and marketing advice.
We offer all kinds of services to help independent bands get noticed and expand their fanbase and are expanding these services all the time. Let us know what you need help with and we will make it happen. Come along for the ride as we build our team and help all the hard-working bands out there striving for more.
---
About The Staff At Indie Band Guru
---
Keith Pro
– Founder of Indie Band Guru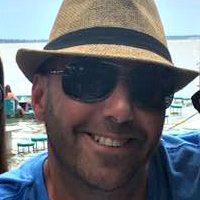 A true music lover who has held many positions throughout the music industry. The music business is as much a passion as the music itself.
'He has loved music more than anything since he was a baby', says his mother. She says 'Keith used to demand that she put on the Pink Floyd's Dark Side of The Moon album while he lay on the shag carpet and stare at the ceiling.'
Jumping in and out of bands starting at age 16, Keith never really found his true calling in front of the microphone. At that point he started managing a friend's band, handling all the behind the scenes work in making the band a success. Never being satisfied, Keith started a fanzine to find more great music and reviewed 100's of band's demos, offering them straightforward tips on how to get to the next level in their careers. A few bands really struck and he was signed on to be a promoter for them eventually turning it into a full-time booking agency working for a few bands and becoming the sole booking agent for a few venues in New York City.
To expand his knowledge Keith then attended the Berklee College of Music and earned a degree in Music Business. This led to a position at a music marketing firm in Manhattan to continue learning about the business side of music. Trying to take it to the next level an indie record label/management company was formed to help bands achieve success in the drastically changing music industry. There were some ups and downs and more lessons were learned. Today the dream continues at Indie Band Guru, staying busy in music and helping guide musicians to the promised land of a successful career in music.
---
Sam Reed – Lead Content Editor
Fueled by a passion and sense of comfort found in music, Sam Reed has nearly six years invested into working in the music industry. Coming from Buffalo, NY, a much smaller music city than most, she has spent years traveling across the country to chase music and cities where it emanates strongest while maintaining a strong sense of home and community among the underdogs. As a lifelong fan of the live concert experience, it was a seamless transition into live music photography and journalism. Traversing festivals and providing content for multiple publications over the years, she takes pride in highlighting acts of every size and genre, and finding a unique light to feature them in. When she isn't working with Indie Band Guru, Sam also spends a great deal of time working alongside Girls Behind The Rock Show, a non-profit agency that supports and empowers women in music, combining her passions with her drive to help people. You can follow Sam on her socials, @samreedphoto across all platforms!
---
Starr Elizabeth Brown – Contributor – Social Media Specialist

Starr has always been an avid music fan. From punk to pop and almost everything in between, Starr enjoys attending concerts and discovering new music her friends haven't even heard of. After spending eight years performing in middle and high school band playing flute and attempting to learn guitar for several years, she keeps moving forward to find a career in music.
Currently, Starr is working towards a Bachelors in Journalism with a concentration in Social and Interactive Media at Oakland University. Between being a full-time student, working on and off campus, and late night Netflix sessions, Starr is trying to figure out where life will take her.
---
Emily Cramton – Contributor
Emily grew up in Charlotte, North Carolina, where she has been surrounded by music from a young age. From piano lessons to playing in orchestras to listening to all kinds of genres in the car with her parents, music has always been an important part of her life. Now she's finishing up her Bachelor of Arts degree in music at the University of North Carolina at Greensboro, where she has discovered a love for writing about music.
When she's not playing viola in an orchestra or finding new music to listen to, she's probably hanging out with her cat, Sherbert.
---
Kayla Carmicheal – Contributor
Kayla follows her favorite sounds. This has led her through many musical endeavors throughout her 20 years, including choirs, musical theatre, and an ambitious stint of becoming a music teacher.
After realizing none of these paths was for her but giving her a great icebreaker, ("I sang a solo at Disney World once"), she turned to her love of writing and found a niche for music journalism and promotion.
Kayla's a college junior and latte enthusiast, majoring in Communications with double concentrations in Public Relations and Media Studies. When she's not catching a show in her birthplace and favorite city, Chicago, she's doing her best, seeing where her "go with the flow" attitude will take her next.
---
Darius McGrew – Contributor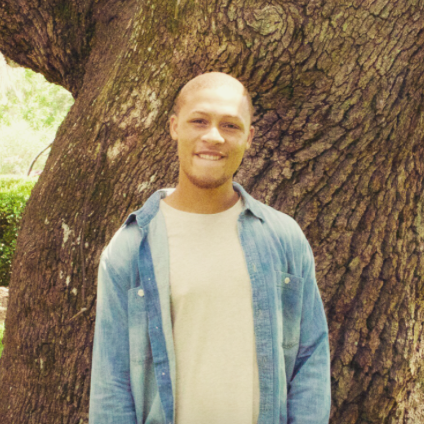 Darius is a young, inspired writer who really brings an all-new sense of life to Indiebandguru. Currently an English major at Florida State University, he's constantly working to polish his writing and communication skills and hopes to one day combine those skills to change the world.
Growing up, his taste in music was overwhelmingly rap influenced. He spent most of his time jamming and reciting lyrics from artists like Lil Wayne, Kanye West, Common, Childish Gambino, and J Cole. As he grew and matured, however, so did his taste in music. These days Darius is an avid fan of electric-blues, acoustic-folk and when done correctly, roots and psychedelic rock.
At just 20-years-old, Darius doesn't quite know where he's headed just yet – but he knows it's somewhere big.
Fun Fact: He frequently performs live Spoken Word Poetry on campus at FSU and in surrounding areas.
---
David S. Bradford – Web Designer/Graphic Artist
David S. Bradford (a.k.a. D. S. Bradford) is a music artist, composer, and songwriter from Philadelphia, Pennsylvania. Through years of self-producing and training, he has amassed a vast knowledge of the music business and specializes in creating graphic art and providing web design services that bring out the best of any artist's brand. From logos and banners for social media to full-on web design – Bradford's growing body of work has helped bands and businesses to have peace of mind knowing that their web presence is being handled by someone who is right there next to them and knows what it takes to make a great impression in the creative industry. His ventures both personally and professionally have positioned he and his brand at the forefront of endorsements from companies specializing in content creation, notably Insta360.
Aside from creating music and art, David enjoys writing about entertainment and producing video content. Above all else, he enjoys spending time with his wife and son.
Website: dsbradford.com • Facebook: @DSBmusic • Twitter: @DSBradford
---
Alexis Arnold – Former Editorial Assistant and Contributor
Alexis has been doing music for a while. With a family full of musicians and music teachers, it's practically in her blood. This led to five years of singing lessons. After realizing performing wasn't for her (and a very short stint with music production), she turned to music business. It was here that she realized her love of the industry and band promotion.
Now Alexis is working toward her Bachelor's Degree in Communication with a focus in Public Relations. When she's not working on campus or getting involved with her Greek life organization she's focused on getting into Entertainment PR (and trying to find her new second favorite artist, because Drake is always first).
Alexis isn't sure where it's all going to take her, but she's pretty stoked about it.
---
Shelagh Dolan – Former Contributor
Shelagh Dolan would spend all of her money on concerts if she could. A lover of folk rock, indie pop, shoegaze, and electronica, she is always on the hunt for new bands and sounds, and will travel great distances (within Manhattan and Brooklyn) to find them. Though she had to set aside her own musical career and retire from guitar lessons at the age of 16, she can still play the intros of "Stairway to Heaven" and "Purple Haze" from memory.
As a writer, Shelagh has worked as a journalist, copywriter, blogger, and content writer for a variety of business, editorial, and commercial industries. She has a B.A. in Spanish and Writing and a master's degree in Professional Writing for New Media. When she's not writing, Shelagh is usually reading, playing volleyball, thinking about cats, or watching Portlandia.
Follow her on Twitter for music updates and random social commentary @ShelaghDolan.
---
Grant Looper – Former Contributor
One of Grant's chief interests is musical literacy. He is an aficionado of Classic Rock, as well as Folk Rock and early Blues music. A Creative Writing major at Anderson University, South Carolina, he has a strong interest in Modernist-era writers and artists, as well as in general artistic criticism. Grant is a devoted fan of Ernest Hemingway, Bob Dylan, and has been a life-long fan of The Beatles.
He was trained in musical theory and piano performance for six years as a child and continues to play the piano on a regular basis. Growing up near Greenville, South Carolina (one of the artistic capitals of the South), Grant has fostered a consistent exposure to the arts and makes a conscious effort to stay up-to-date with the latest movements and trends.
---
Kristy Linkous – Contributor
Kristy is a 23-year-old still-in-college student majoring in Communication Studies. She has a primary focus in Print Journalism and spends most of her time writing about everything that inspires her, including music. Having been exposed to every genre throughout her life, from her grandfather blasting Guns & Roses to her uncle reciting lyrics from Tupac, music has constantly held her attention for as long as she can remember.
When she's not listening to music, she's probably cuddled up with her dog watching Netflix. One day she'll head out to the big city, but for now, she's a little stuck in the suburbs.
---
Anatole Ashraf – Former Creative Director
Anatole is first and foremost a practical wordsmith. During his time at Columbia University as an English major, he balanced a healthy exposure to Romantic poetry, Chaucer, and Shakespeare with significant experience in journalism, blogging, and commercial writing (as well as a little bit of science journalism; his other major was Evolutionary Biology). He has spent years as a blogger, copywriter, copy editor, social media manager, food writer, arts reviewer, and most importantly, a music journalist. He has been published in New York Arts Magazine, Nearsay.com, and was even invited to write for the Huffington Post. His namesake, Anatole France, is one of that country's most famed authors, and the passion for words seems to have carried over past continents and centuries.
In addition to skills developed as a journalist and blogger, Anatole brings the experience of having been a working musician and singer for five years. Having been involved in both the performance and business sides of the music business, he has gained insight into almost every aspect of the ever-changing music industry. He comes to Indie Band Guru with a constant thirst for new music, a love for the craft, and a clear understanding of what bands need to survive and succeed in the constantly evolving music industry.
---