Due to the large volume of requests and e-mails we receive at Indie Band Guru for features, album reviews, and interviews, we are now offering a Music Review Feature service. We will always continue to accept free music submissions but with the horde of music we receive, it is next to impossible to listen to it all.
We decided to offer these sponsored placements as a way to prioritize what we feature as well as try to support our sacrifice and dedication to the indie music community. We do this as affordable as possible.
Why pay for a Music Review Feature?
We want you to understand that we are listening to independent music each and every day and a huge portion of what we do is solely for our passion for independent music. It seems bands, artists, and musicians who are willing to pay a small fee for a feature placement are proving how serious they are about their music and in fact send us a much better musical product than the average submission we receive. We strive to honor that level of dedication by offering exposure that these hard-working artists deserve.
Independent Music Needs Exposure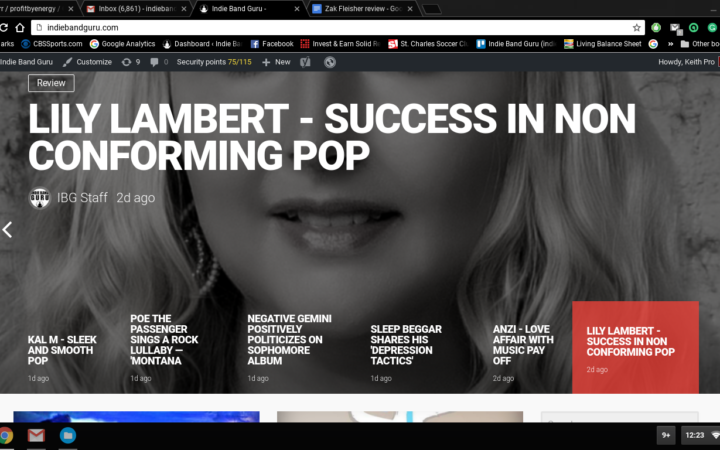 Why be featured on the IndieBandGuru website?
Your feature will be on the IndieBandGuru.com site forever. This provides the social proof that new listeners want to see. Spreading the link through your channels only adds to the exposure. This will allow you to leverage our hard-earned SEO ranking.
You will be able to use the feature and quotes in your own Press materials and EPKs. This adds a professional level when approaching venues, labels, publishers, other bloggers, fans, and other important people in the industry. It is very important to have outside opinions about your music.
We have spent years building our network in the independent music community and we have established many connections that pay close attention to the music we share with them. Our website visitors, Twitter followers, Facebook fans, and Instagram followers, will all see your feature, hopefully drawing in some new fans for you.
The Indie Band Guru team is on the Internet every day sharing, networking, and driving traffic to our website. Your review WILL get exposure.
Gain Exposure With A Music Review Feature
Our basic review includes an intro of your band with some background and a few paragraphs about your music and particular songs. Each 300+ word review is Search Engine Optimized and provides a feature photo and embedded music stream, as well as links back to your website/social media.
Browse HERE to see some past reviews.
Some additional extras we offer are:
 Additional reviews on other top-notch music blogs
Facebook and Twitter Promotions
---
Album Review Features start at $50 (Single or music video review – $30).
Triple Feature Album Packages on 3 separate music blogs for only $125
Get in touch NOW and Let's talk about giving your music the exposure it truly deserves!
TESTIMONIALS
Oh my goodness Keith! I literally have tears in my eyes after reading your review!! THANK YOU just isn't enough!!
I'm absolutely thrilled you enjoyed our work so much. Sending you the BIGGEST hug!! This will be getting shared all over tomorrow!
-Liz Cirelli
Wow – this is really wonderful! I didn't expect the personal touch that you've given in your review. I greatly appreciate that who I am and how my identity comes through in the music is such a prominent theme.
I am just thankful that you have such a positive and encouraging view of what I've put together here. You've got an excellent ability to tell a person's story within a tight set of parameters – great work!

Again, many thanks for being so gracious throughout this process. It probably wouldn't surprise you if I said that level of professionalism (and, frankly, courtesy) hasn't been the norm

-Chris Walsh of Soulful Americana