There are times in music where words are not needed to tell a story.  The beauty of good instrumental music can let the listener add his own ideas to the story that is being told through sound.  In my opinion, it does take more technical skill to make a record of only instruments without the aid of vocals to capture the listeners attention.  From the first listen of ARJUN, the boatload of talent was obvious right away.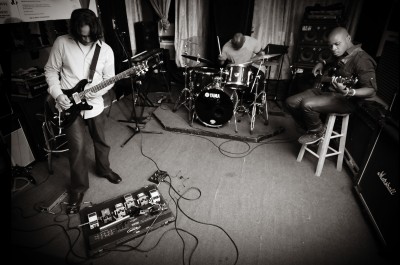 The three-piece instrumental band from New York, has been delivering a fusion of rock and improvisational jazz since their beginnings in 2003.  The band is made up of Eddie Arjun Peters on guitar, Lamar Myers on drums, and Andre Lyles on bass.  The way that these three men are able to meld their sounds together into one cohesive unit is astonishing.  The goal is to tell powerful stories without words, but with grooves, emotion and raw improvisation.   The amazing ability of each band member on his instrument has earned ARJUN comparisons to legends such as Charlie Hunter, Joe Satriani, and Stevie Ray Vaughn.
The band's latest record Space is a 5 song testament to what they are able to do.  There is an avant garde feel and deeply mesmerizing vibe to the whole 34 minute album.  Space was recorded at Level 11 Studios in New York City, where ARJUN uses a technique of strategically excluding any overdubbing or layering from their music to allow the chemistry of the musicians to shine through.  The live performances can now sound as phenomenal as the record without the use of any engineering tricks.  The opening track 'Orion' features a deep bass groove from the start to suck the listener in before Eddie Peters blows them away with his guitar flow.  Again the way all the sounds blend together is very impressive.  The lead single 'Gone' has an almost eerie ambiance to it that darkly creeps its way into your soul.  The story changes as the instruments build to lead the listener to a better place.  ARJUN show that high energy can be added to instrumental music with the songs 'Galaxies' and title track 'Space', which will leave you gasping for air as they come to a conclusion.
This is music for the elevated music fan.  If you consider yourself in this group go get a listen at: http://arjunmusic.com