When I received the latest EP from singer/songwriter Michael Thomas Smith, of course I had my immediate prejudice kick in. "He has 3 names, he must be a boring self-hyping soloist –or- a serial killer"  Luckily for all of us, neither of these pre-judges seem to be true.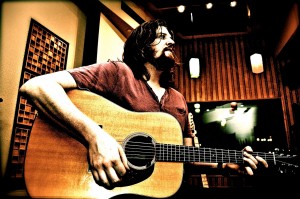 His An Introductory (EP)ilogue EP is filled with 5 songs and I can't say I hate any of them.  A rare occurrence nowadays.  The first song 'Innocent' grabs you right away with some vocals reminiscent of early Seal.  A voice that can hold the notes without wavering until Michael wants it to.  The music is a lot more than just a man and his guitar.  A straight drum beat and sweet synth sound hide in the background letting you truly hear the multiple layers of guitar work and the heartfelt vocals. Another favorite, Daybreak, has an interesting country twang to it while still highlighting Michael's strong vocal performance.  The closer, Scores, seems to mix all of his influences into one song.  It jumps around from a Coldplay-like sound, to rock guitar and angst-ridden vocals, to piano riffs that could have been meant for a ballad.  Slightly schizophrenic but it comes together well as a whole song.
Fans have been consistently flocking to Michael Thomas Smith since his performance at last year's Eco Music Festival in Snowmass, Colorado.  He had to work his fans through social media to get voted onto the bill alongside The Disco Biscuits and Leftover Salmon.  He stressed to me how he networked through friends and family and genuinely reached out to people personally instead of just spamming the crap out of everyone.  If you read my articles before, you know I am a huge proponent of that to grow your fanbase.  A smaller fanbase that has a true connection with the artist can mean a lot more than a huge fanbase that doesn't really know you.
It seems like Michael has the right plan in place as he recently finished writing and has started recording his full length debut Long Winded Short Stories. We expect his following to keep growing and mainstream hit potential to be not too far behind.
Find out more about Michael at: