The music business is just that a business, and it must be treated as such if you want any success.  There is much more to it than just writing, recording and playing your songs.  If you do everything you can to push forward everyday like it is your own startup company, your dreams are within reach.  We get very excited over here at Indie Band Guru when we come across a band that realizes this and is willing to do what it takes.  Let us introduce our latest find to fit this mold, Atoms Fall.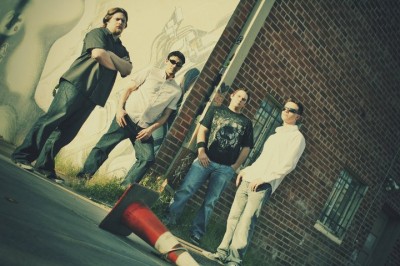 The melodic hard rock outfit is based in the hot southwest climate of Phoenix, Arizona.  The heat and energy is evident in their music as well.  Band members Jeff Crawford, Mark Collins, Christopher Watson, Jason Gain combine to form a strong work ethic handling marketing, video production, and advertising on their own.  Atoms Fall is constantly working to gain new fans and make connections with important people in the industry.  Even after their work is done they realized more was needed and brought on Daley Management to get their foot into even more doors.  The name Atoms Fall is getting recognized throughout the Southwest and an ever expanding audience.
The band has recently released their debut album Tears For The Useless.  The 10 track record showcases talent in every area.  Atoms Fall's sound touches on hard rock, mainstream rock, and even progressive genres.  There is something here for every fan of energetic rock music.  The record open with the power of 'What Have I Become', a straight up rock track featuring great vocals and a driving rhythm section that will keep your heart pumping throughout.  'Enemy' is more toward the progressive side with its interesting sonic play on sound and gritty guitar reminiscent of the Deftones or even Tool at times.  The lyrics are crisp and sang with ease by a great vocalist.  Lead single 'Sin Eater' starts with a rush of energy as well with all the instruments joining in for a rock fest.  Vocals again are heartfelt and powerful, including the group chorus.  impressive bass and guitar solos set this song on another level and the talent is really put front and center.
Get a listen to Atoms Fall now before they are a household name at: http://www.atomsfall.com/