On the last day of CMJ 2013, I made a late night trek to Mercury Lounge to catch the 1:00 A.M. set of Washington D.C.-based band Misun. Having been a fan of the single Coffee and other tracks from their 2012 EP The Sea, I was looking forward to seeing them live. I wasn't sure what to expect, but I was blown away.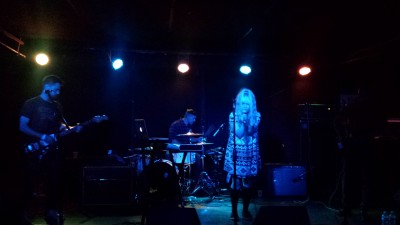 The act is named after the front woman Misun Wojcik who met some of her band mates while waitressing in D.C. a few years ago. With a quirky and affable stage presence, she radiated the entire night, engaging the audience with cheerful stage banter and her soulful voice. Full of energy, she floated around the stage, and often jumped up and down. It was fun to watch. Every song of the set was lively and upbeat, a perfect mix of electronic elements laced with rock-n-roll. The poppy tunes they performed were infectious, and it was impossible not to smile during their set.
After a long week, it was refreshing to see a band so full of life. Misun was likely my favorite act of CMJ 2013, winning me over with their energetic take on electropop.
*-writeup by Kathleen Gauder of Indie Band Guru