Double Experience offers a sound which they describe as NERD ROCK. Ian Nichols (bassist/vocalist) and Brock Tinsley (guitarist) have a strong passion for video games, comics, science fiction, movies and other pop culture elements. They say "Nerd Rock should be more than sweater vests and big glasses, it should be about celebrating what makes you different". Over the years, they have woven these passions into their many releases from impressive original material to some surprising cover songs.
2019 saw the guys confirm a release of a trio of EP's as part of their first concept album. Each made up of three tracks which they say "nine tracks each correspond to one of the alignments found in the Dungeons & Dragons universe, while the title track is told from the perspective of an omnipotent DM figure". Now, these EP's have merged like Voltron (with two additional songs) to form Alignments.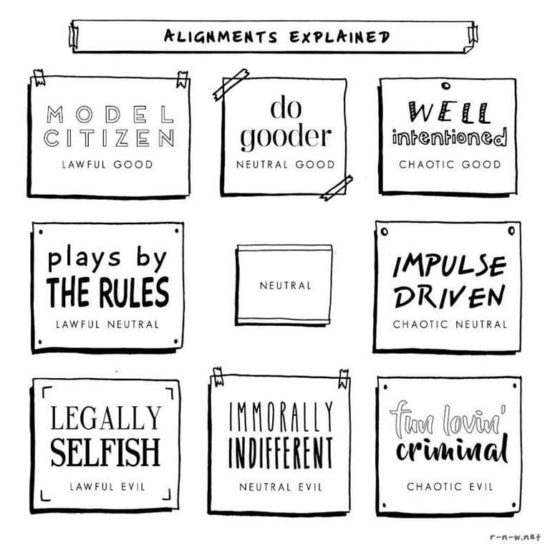 Let's break the album up into the various Alignments which each EP reflects. First up was the Neutral Edition with the tracks "New Me", "The Imp", and "Ghost In The Machine". These three instantly showcase how pop culture has helped to shape their music. Woven within their songs are references ranging from Tetris to Ghost in The Shell.
Out of all these tracks, it is "New Me" which stands out the most. The reason for this is due to how they can create an infectious sound which explodes with its hook. It's difficult not to sing along to the lines "You better take cover / I'm coming for you / I am judge, jury and punisher". The guys say inspiration "came from the similarities between the cold calculations of The Punisher and the decisions made within a cutthroat, largely corrupt system known as the modern music industry". It reveals that their songs have a lot of depth to them.
The next release featured "Born For It", "Something's Got To Give", and "So dumb" representing the Good Edition. All continue to showcase their style of Nerd rock with killer riffs and thunderous drums. Nichols vocals get the opportunity to stand out, especially during the track "Born For It". It offers an upbeat message about not giving up to achieve what you want to do. He delivers this message with anthemic qualities during its chorus "I'm never growing up / Cause I was born for it / And you'll die before you hear me call it quits / Cause I was born for it". There is a conviction and belief to his tone that gives these lines extra impact.
Then came the turn of the Evil Edition with "Your biggest fan", "Perish song", and "My List". Of all of the EP's, this one impresses the most due to its high calibre of songwriting. Of them all, it is "Your Biggest Fan" which delivers a must-hear performance. The guys ensure from its start that they grab the listeners attention with their funky and playful tone. When the hook arrives, it is difficult to ignore. It is yet another example of their impressive way with words, as they get you singing along to the lines "You don't understand / I am your biggest fan". Hidden within it, is also a sexy little guitar solo by Tinsley.
To fill up the album a little more, the guys include two new songs. First is "Love Is Not Just Talk" which oozes more of their catchy chorus' and more thunderous drums. The other is the title track "Alignments", which offers something a little different. It is due to its more mature tone, along with its impressive arrangement. Each layer of music weaves with purpose and comes together with maximum effect. These help to give lines such as "Alignment? / For what cause are you fighting? / Decide it / We'll always be on different sides / Different sides" more of an impact.
Double Experience offers their infectious style of NERD ROCK with their new album Alignments.
Alignments show how far this band have come since forming. They have evolved their sound and seem more confident with these new songs. Each track offers something different, but all feature an intent to what it has to say. This album confirms that Double Experience has levelled up and they are born for it. Press play and enjoy!