With the world of entertainment becoming more blended, an artist should combine all of their talent in the arts. People expect visuals with music and fully immersive experiences now. Our recent find Run Downhill is giving them what they want and more.
We caught up with the multi-talented songwriter and visual artist to see how his career has progressed. Enjoy the interview here:
First off, what is the story behind the name Run Downhill?
I grew up in a small farming town in eastern Washington known for its apple and cherry orchards; many of my friends were orchardists and much of our time was spent playing in and around the trees and open pastures. One friend of mine lived just outside of town and part of his family's property included a massive hillside, and we spent a great deal of time playing on that hillside. One day he turns to me nonchalantly and says: "If the bull starts to chase you, simply run downhill," the rationale being that the bull could outrun you on flat ground, but his legs and joints could not carry him swiftly on the downhill, so you could evade him.
I never forgot this interaction. Years later, when I was assembling the first batch of songs that would become the Giants EP (RDh's first release), I was talking to artist Scott Angle about cover art and I told him this story of the band name; I always imagined meeting a stranger on that hillside, and him telling me to run as fast as I could straight down. For at the bottom of the hill was Hell itself, and this image stayed with me. Scott liked the idea and asked if he could draw that; when he showed me the image about two weeks later, I had the single greatest moment of inspiration I've ever had, where the entire world of Run Downhill, the idea to combine the songs with comics and the narrative, all flooded into me in a single burst. That's what the SPURS storyline was all about.
How would you describe the sound of the band?
I always call it a collision of concepts and aesthetic: part classic country, part indie rock, and very much original. Think of Johnny Cash crossed with Tortoise or Slint, with a dash of Pink Floyd thrown in. It has a very strong West Coast vibe; I'm always inspired by California beaches and the natural beauty of the mountains of the West, and this comes out in the music.
Which artists have had the biggest influence on Run Downhill?
Recently, I think Beach House is one of my main influences, I love their dreamy, down tempo, very cinematic sound. But the Johnny Cash influence is strong, especially in the manner that Luther Perkins played his electric guitar parts, that's very much the way I use the baritone guitar in my arrangements. Similarly, Pink Floyd's slow and open harmonic rhythm is very similar to my writing; there's not a ton of busy chord changes, they tend to be more drawn out, very pastoral, very visually descriptive of open landscapes (like the Hill mentioned above), where the chords feel like brushstrokes on a larger canvas.
"It's All About The Money" by Run Downhill
There is a lot more to this project. What can you share about the art that accompanies the music?
My initial goal was to start using still images as projections, using Ken Burns-inspired editing techniques to bring the images to life. But that quickly expanded as I began researching more into how to make comic books; I've been a lifelong comic reader and collector, and I tried making comic stories with friends when I was very young, but it never crossed my mind to really figure out how to make comics until Run Downhill began in earnest. One of the quick reality checks was learning that making comics is an expensive proposition, especially when you don't draw, since you have to hire an artist. Scott Angle was the first visual artist I worked with to bring some of these narratives to life. I met Quinn Salazar through my work at ArtShare LA, where he was a resident; he did the artwork for SPURS #1, our first big comic book album containing Chapters 1-4 of the main story. That first big book was turned into a motion comic short film that we would project behind us at concerts; it was also included for competition at the Seattle Transmedia and Independent Film Festival (STIFF).
Chris McFann was a friend from my childhood, and I was very lucky to have him join me for Chapters 7-9. But I kept coming back to Scott for images and various concepts and he was always happy to engage the project; he did cover art for SPURS #1, as well as contributing images for The Lord, the Lady and I EP, and then he did the cover for the new album (all of these are turning into motion comic videos, by the way).
The new album has a great comic element, but it's not in the same continuity as the SPURS storyline; this one is more abstract, more a series of vignettes, most of them drawn by Toronto-based artist Claudio Ghirardo. I love his art, it's very surrealist, and it fits nicely with the more psychologically-based stories I've been writing. I want to go back and finish the SPURS story, but my main focus is the music for the new album, so rather than focus on connective tissue from a narrative perspective, I made more abstract, associative vignettes that function as more stand-alone pieces, rather than as a singular connected narrative.
How did you cope with the pandemic and lockdowns of the past 2 years?
I was very lucky to have a wonderful person to share the lockdown with. My wife is a champion, and we spent the time growing closer, as well as normalizing a lot of our daily routines; I spent my time practicing and writing music (I've written probably 60-80 pieces of music) and recording songs, but also exercising, cooking good food, and getting our household in order. I read a ton of books, I took several classes online, and became quite the news hound; I'm very invested in current events both domestic and international, and keep trying to expand my horizons. All in all, I faired very well and I am quite lucky and grateful for that.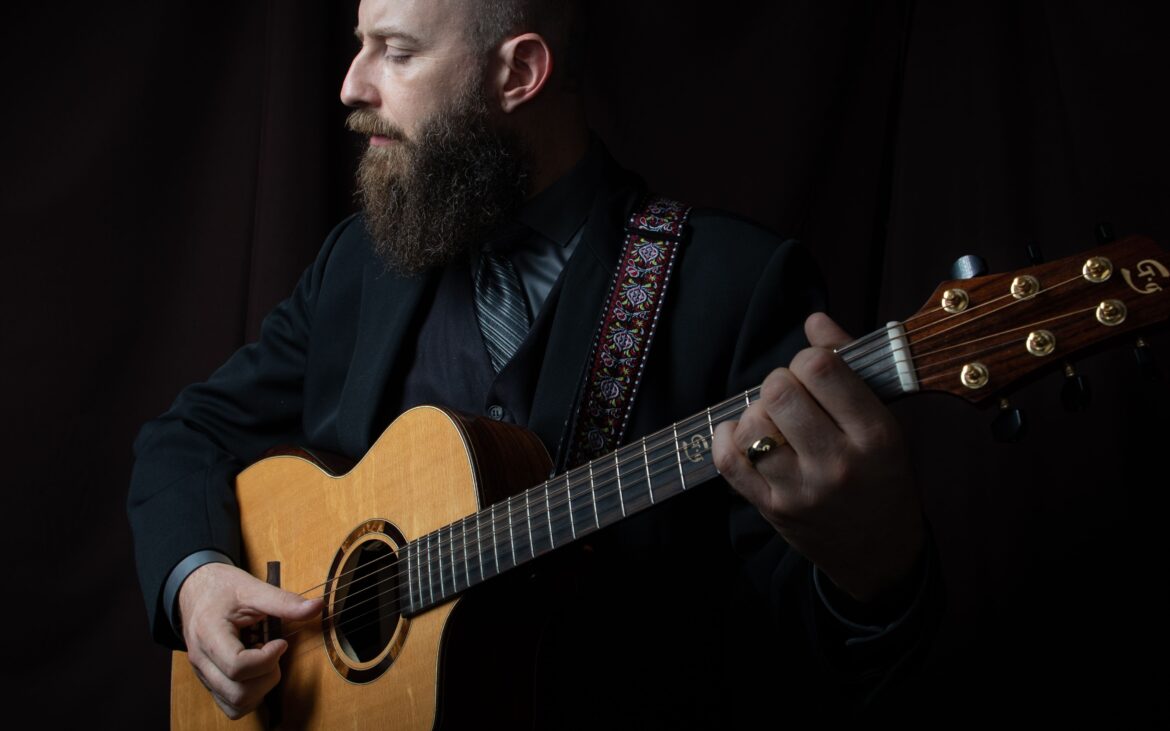 How do you hope to connect with listeners of your music?
Video: the new album is going to be presented on all standard platforms (Spotify, etc), but I'm really focusing on making YouTube work for these songs. That's where Claudio's art comes in, and I've become a better video editor (thanks to the time afforded by the pandemic) and I'm constantly learning more. Eventually, as things open up more, we will get back to live playing, and I'm hoping to connect with an audience who wants something different from their musical experiences. I hope the spirit of honesty and authenticity comes out through the songs; above all other things, those values preclude anything else I would write, so it's a starting point. I don't try to move with modern musical trends, or try to decipher what it is I think an audience wants to hear; I know the audience demands quality, and so I work to give as high quality a musical experience as I know how to give, but I don't alter my writing style to fit in with other modern artists. I write as myself, I follow my instinct and trust those decisions, and then I perform my ass off and hope the audience finds something authentic in that experience that resonates with them.
Share some advice for other artists creating something unique.
First and foremost, you have to be an active creator: make new music everyday, and keep doing it. I think it's important to have a track record of work, you need to show that you've been creating and have a body of work to show for it. Above all, be authentic to who you are as an artist; if you only know two or three chords on the guitar, embrace that and write great songs with those three chords (amazing, timeless songs have been written with much less). Write the music that moves you, and never let other people's opinions about what you "should" do sway you from what you "are" doing. Walk the walk, leaving the talking to the ones sitting on the bench.
What does the future hold for Run Downhill?
The new album, entitled Nineteen/Twenty, drops on June 27, 2022, and I'm very excited to start the release process for that music, it's my best to date and I've never spent so much time carefully cultivating songs for release. I'm working on getting video content finished and once it hits, my attention immediately shifts to getting the live show back on track; the band is currently rehearsing but in a totally new configuration and I think the shows will be very cool, once we get back to live work. And, I have the next album already in production, so I hope to have a more steady stream of releases for the next 18-24 months. The big goal is to be touring by early 2023 and really build a broad base of fans across the U.S. and beyond. I'd love to take this band to Europe, so I'm working on a plan to make that happen too.
Above and beyond all things, it's all about making great songs and sharing them with any and all who love getting lost in song.
Keep up with more from Run Downhill HERE.