We have brought him and his company, SpaceLAB Recordings, to your attention once before but we recently had the chance to sit down and chat with the always entertaining Jake Palumbo.  The rapper/emcee and entrepreneaur is one of the hardest working men in the music business.  He shares some insight with Indie Band Guru below:
How did you get started in Hip Hop?
When I was a kid I used to go to a store in the mall in Tennessee called Camelot Music & I'd see this Public Enemy tape every time, it was almost staring at me….weeks went by & I finally bought it, even though the only rap album I'd owned up to that point was MC Hammer.  I played that PE tape so many times the tape literally snapped in half.  I've still got it.
In summer of 1997, I was at my friend Arnold's house, & saw the Wu-Tang "Triumph" video, & I went APE-S**T.  I'd never seen anything like it.  My parents got me the "Wu-Tang Forever" double-CD for my birthday that year, & it started rolling from there.
Tell us about your first show ever?
My first real show was in 2003 in Johnson City, TN at a bro-type hangout on the ETSU campus called Poor Richards.  Got paid $200 & played to a nice crowd, which got me thinking, "hey, this is lucrative!"  I got a hard dose of reality when probably the next 75 shows I did I made $0 to maybe $25 for.  Learning to entertain those 10 people in the room is a skill every artist should have to master.  It's humbling.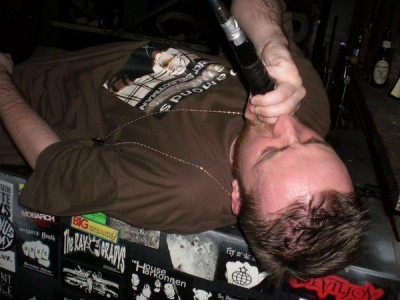 Being raised in Tennessee, tell us the differences in the hip hop scene of your new locale, NYC?
I've been a New Yorker for 7 years now, so I imagine the scene in Tennessee has changed some since I left with the Internet & social media & everyone being a rapper now, but when I was there, there really was no scene to speak of.  God bless all the people that supported me, but I woulda starved to death if I'd stayed there.  There were rap fans like anywhere, but if you didn't fit the mold of one particular sound, people just looked at you funny like they didn't get it.
In NYC by default there are thousands more people you're "competing" against, but there's a system in place here where if you're willing to work hard & sacrifice & pay dues, you CAN get somewhere.  So as much as I complain about the people & the prices & how everything in the city gets peed on daily, I have a lotta love for NY, it made a man out of me for sure.
The food is better in Tennessee though (laughs).
How did you end up starting and expanding SpaceLAB Recordings?
In 2003 when I started doing this, record labels looking to sign talent in East Tennessee simply didn't exist.  I knew my music was too strange to even try to get signed to a major anyway, so I took a page out of the DIY punk rock manual, & from the indie rap labels that inspired me, & got a business license, pressed up 1,000 CD's, & took it from there.  Hand-to-hand, grassroots, DIY as a motherf*****.
When me & Tennessee just couldn't be together anymore, I moved to NY & was a one-man operation for a couple years.  I got a job as the studio manager at Play Studios, & through that ended up meeting Gotham Heights & C-Zar Van Gogh, & then reconnected with Ciphurphace & Ollie OX who I knew previously, & had ended up in NYC.  There is strength in numbers, I loved those guys & their music, it just made sense.
You seem to be pretty busy there acting as producer, emcee, recording & mix engineer, DJ, & the proprietor, does that leave enough time for your own writing career?
Ehhhh, barely (laughs).  Honestly, I have no time whatsoever anymore to just sit & write like I used to.  The only GOOD thing is it forced me to develop a skill I'd been avoiding for years, which is the ability to sit down, listen to the beat, & come up with something dope right there, on the spot.  In the past I would pine over verses, edit them to death until I thought they were perfect.  Can't do that anymore, there's just no time, so it's forced me to learn how to write on the spot, which has made me a better emcee.
We heard about a certain longtime running children's show serving you with an injunction.  Briefly tell us that story.
(Laughs) Well, I put out an album in 2008 called District Selectman.  I assumed I was so underground, that I could sample anything I wanted & no one would catch me, or if they did, I wasn't worth suing.  Well, I was wrong!  Last year I was having a chicken salad croissant at my studio when these guys served me with an injunction, over the sample I used in the song "People In Your Neighborhood."  You can probably guess where it's from, but if not it's the most popular kids show of the last 40 years (laughs).
My distributor, who I've since parted ways with, went bonkers when that happened & ALL my music got pulled from iTunes, the whole fiasco took about 6 months to straighten out.  Luckily, I didn't get sued to death; cause the album only sold about 2,000 copies, but the whole ordeal did cost me some bread, no doubt.  It was a financial kick in the balls, but at the same time I felt like I'd arrived, you know?  Like I'm a real producer now (laughs).
There is much more than standard hip hop in your sound.  Tell us about your influences?
Well, my biggest influence of all, period, & the guy who made me want to be in the music business, was Frank Zappa.  The musical diversity, the imagination, the mentality of I'm doing this because it sounds good to ME….had a huge impact.
There are a million rappers I could point to whose work had an influence on me, but I am just as influenced by characters in general.  Ric Flair, the Iron Sheik, George Carlin, to hucksters like Billy Mays, on down to guys like Randy West, who did porn on into his 60's because he loved women & could still get it done (laughs).  I just appreciate people who don't give a f**k & aren't afraid to rock the boat.
You have worked hard to get where you are.  What are your upcoming plans to keep the momentum going?
Really just keep doing what we're doing, but on a bigger scale.  We've got a solid roster of artists, we have a fan base that while not in the millions, they love us & support what we put out, so I really just want to get everyone's hustle up to 100% to go for theirs, find a larger investor who sees the vision, so I'll finally have a budget to advertise on a nationwide basis, keep our music flowing & really just keep doing what we're doing.  Slow & steady wins the race; I truly believe that.  The first shall be last, & the last shall be first.
Follow this rising star at:
SpaceLAB Recordings
www.spacelabrecordings.com
www.soundcloud.com/jakepalumbo
www.spacelabrecordings.bandcamp.com  
www.reverbnation.com/jakepalumbo