Everyone must find their passion if they wish to truly enjoy life.  Many musicians gain this at an early age and even when road blocks seem to pop up if the passion for music is true they will push forward and continue to further their love and career.  A good example is our recent discovery Mike Masch.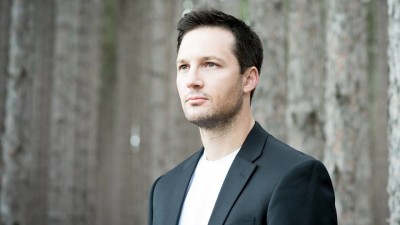 The producer-singer-songwriter originally hails from Ann Arbor, Michigan where he was turned on to music at an early age.  Mike Masch's father's collection of classical music 8-tracks was the first catalyst that led the 5 year old boy to begin taking piano lessons.  In his teens he discovered hip hop music and the fire for music started raging.  Artists from Tribe Called Quest to Grandmaster Flash to Beastie Boys and a gangsta rap pase laid the groundwork.  While in college Mike's influences were expanded to other genres and bands such as Radiohead, Tool, and Nirvana.  
He now turned to learning as much as he could about  music theory, production, and audio engineering working with artist across the country.  This helped Mike Masch develop his own original sound that is a type of hip-hop fusion that consists of heavy undertones of electronica, classical, darkside, big beat, cinematic, and downtempo.
Recently the music has been flowing and he released The New Amplifier LP.  The 17 track record is a full lyrical album with enlightening, inspirational wordplay set to a complete collection of thunderous 808 bass, mesmerizing synths, hip-hop strings, powerful brass, smooth pianos, guitar riffs, and vocal harmonies.  The opener "Showtime" sets the tone for something a little different with its wide array of electronic sounds filling the sonic space.  
Some strong but not overly in your face hip hop beats are heard on "Belief Revived" and "Only For The Best".  The focus is set on Mike Masch's conscious lyrical flow.  The excellent production skills stand out on "Now You Know" with music filling the speakers as a moving beat is created with a dark vibe.  The dance floor type beats continue on "Memory Lane".  This is an artist who knows how to get heads bobbing and asses shaking.  By the time you get to the closer "Until Next Time" you are fully aware you have been on a journey to the future of hip hop and what it can be.
Enjoy more from Mike Masch at:  www.MikeMasch.com 
Download the record at:
iTunes link: https://itunes.apple.com/us/album/the-new-amplifier/id1059882636
Amazon link: http://www.amazon.com/The-New-Amplifier-Mike-Masch/dp/B0185WJYSI/ref=pd_rhf_gw_p_img_2?ie=UTF8&refRID=185CE6E8KJ2S11TJ4ZED