Once the bite of creating music has a person it never truly leaves.  It may take a break for a while but once a musician, always a musician.  Time moves on and life happens but once you start creating music again you will be hooked.  Luckily we had the chance to hear Jim Miller's music again in his latest project Red Monday.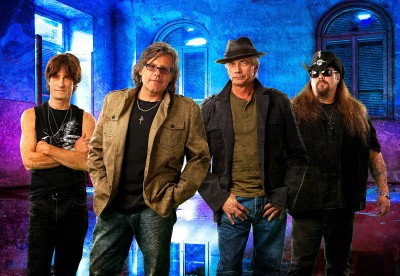 The band is the result of a spark that began to burn after a concert was put together to honor and reunite some of Chicago's rock royalty of the 1970's and 1980's who had played the legendary Haymaker Club.  Seeing these bands again pushed Jim Miller into writing again and reuniting with old acquaintances and musicians called for a fresh start.  This coincidence, or some may say Fate, has led to the formation of Red Monday.  The restart consists of Rick Harris (Lead Vocal), Mike McCarron (Drums, Percussion and Backing Vocals), Jeff Kylloe (Bass)
and Jim Miller  (Producer, Songwriter, Guitars, and Backing Vocals).  These are not youngsters but they can certainly rock.  Times have changed and now they can get a professional album recorded and promote it with the help of the internet.
The band recently released their self titled debut Red Monday.  It is a 12 song testament to the fact that the skill of songwriting never leaves and is as easy to pick back up as riding a bike.  The opener "She's On Fire" sees each band member come together to provide one cohesive unit of skilled rock and roll.  The soulful vocals stand out here.  The lead single "Time (It's About Time)" is a slowed down number with a little blues influence and pretty harmonies.  Red Monday has released a sexy music video for the track too.  Enjoy it here:

The band goes back to classic rock n roll on "Sanctuary" and "You Move Me".  The guitars will capture your attention and drive the songs forward.  The full album will evoke strong flashbacks and emotions.  By the time you get to the closer "Somebody Else" you will be ready for its mellow melody to ease your excited mind.  Take a listen for yourself at: http://redmondaymusic.com/