We are always on the lookout for new music that sets itself apart from the masses.  Influences can come to these esoteric individuals in any form.  Our most recent discovery Sun Uther Wahn has recently released the album Jedi Mind Music to an unsuspecting world.  The 12 track record is an ambient anthem that dives into the spirituality of The Force and provides a tranquil setting to let your own mind enter a different level.  Songs such as "Deep Core" and "Crysolace" dive deep into meditative sounds meant to be more than just songs.  This is a deep listen necessary for any true fan of The Star Wars films and the mythology within that is often overlooked.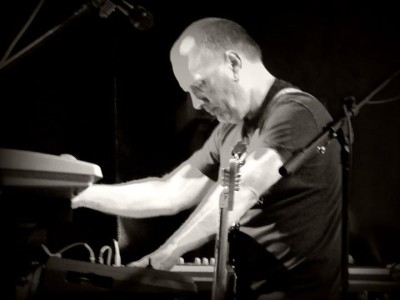 We recently had the opportunity to chat with Sun Uther Wahn about his music and the new record.  Please enjoy the interview below:
1. Sun Uther Wahn is quite an interesting name, tell us about your background and how you chose to go with your own name (Or is it not your name)?
Almost a year ago I was driving down the street thinking about the music I was playing (rock n roll covers). I thought about how I really wanted to do something else, something I enjoyed. I wanted to redefine myself musically, to be some other one. My name is Storm. So I thought; what is the opposite of a storm? The answer came quite easy: The Sun!! I like asian culture and it occurred to me that I could use the spelling of "Sun Uther Wahn" as a play on words with "some other one".
That is the honest truth.
2. You describe your music as ambient artistry, tell us about the songwriting process?
I don't have a set process. I guess you could call it amorphic. Sometimes I hear a beat and start there. Sometimes I hear a melody in the squeal of a machine and take it from there. I like to subscribe to the Brian Eno school of creativity. The less repetition in a process the fresher the song. I know some people don't like that and need structure but with me I like to go with the present moment and let it take its own form.
3. Who and What have been your influences in your music creation?
Brian Eno. Pink Floyd. Sun Ra, The old masters – Beethoven, Bach, Debussy etc…
Miles Davis (mainly his later experimental stuff). George Clinton, Johnny Cash,
There is not really a set of main stream artist that have had a major influence on me with the exception of The Beatles and Pink Floyd.
4. Mississippi does not jump to the forefront of my mind when it comes to Ambient music. How has the local community accepted your sound?
Ha ha.. My good friends are very supportive, even the ones who do not understand what I am doing. Venue wise there are not many places in Mississippi for an indie ambient artist. I do enjoy getting out at the local park or book store every now and then to offer the public a glimpse into what I do. I will throw some pop music in the mix just to draw people in. I have played on the street in Meridian MS and ended up with an impromptu drum circle. It's kinda hit and miss here. I guess you could say I am a pioneer in the Mississippi Ambient music field.
5. You have been making music for a long time. Give us a quick rundown of the styles you have written in throughout the years?
My first written piece was an Avant Garde'/classical piece written in the ninth grade. It actually won first place in the State PTA classical composition contest.
I have written pop songs a few country/folk songs, metal, and progressive rock.
But the best is when I am writing from my spirit which is ambient /avant garde' music. And, thanks to the internet, I have found my niche with people who like what I do. I am grateful for this and do not mind the lack of local interest.
6. We have seen your quote "The Start Of A New Vibe For The Human Tribe", enlighten us on this mantra?
The goal of Sun Uther Wahn is to challenge people to think differently. I believe people label themselves with the culture they grow up in. That is ok, but there is always more. The world is getting smaller, and the world is changing. Growing up in the south I still see deep divisions with regards to race, religion, and heritage. I hope one day people will see themselves more as a human than whatever label they have allowed the world to give them. Some of my music mixes a tribal element with a meditative type vibe and fewer words to make room for wondering and free thoughts. I hope that this essence will spill over into the human culture and bring about a change for good.
7. Earlier this month you released Jedi Mind Music tell us why this is more than just a collection of songs?
I am fascinated with spirituality. I love Star Wars. I had been looking into the philosophy of the Jedi religion and saw a lot of cool elements. For example, their philosophy of detachment and living a balanced life. I studied the mythology of the origins of the Force and began to imagine what would it have been like to discover the elements of the Force.
Jedi Mind Music begins with the Monks of Dai Bendu meditating in Thape then moves to their discovery of the ships of Tho Yor and its containment of midi chlorians and the Force. The album ends with the Odann Urr Mantra also known as the Jedi Code.  The binaural beats used in some of the music enhance a meditative state, and primitive percussion styles help achieve the same. I attempted to tie in principles of quantum learning using sub frequencies to enhance a trance state. These techniques, some believe, lead to a higher state of consciousness, and a deeper connectivity to all living matter. This is the goal of the Jedi.
This music can be used as background ambiance to enhance relaxation, study, or just tune out the world.
8. What does the future hold for Sun Uther Wahn?
Right now I am working on recording some early Pink Floyd pieces. I recently wrapped up Set the Controls for the Heart of the Sun and now on to A Saucerful of Secrets. There are few more early Floyd pieces I would like to cover and possibly recreate live.
The Floyd covers will be digitally released on Reverbnation for free.
I am planning a limited number of live local performances in 2014 including an eclectic bookstore and a few parks with a focus on drum circles and community unity.
My next album is cooking in my mind which should include a few more lyric based songs while still holding to the "new vibe" mantra.
Find out more about this very interesting individual at:
http://sunutherwahn.weebly.com
http://www.reverbnation.com/sunutherwahn