So I am finally recovered from last week's CMJ music festival in NYC.  Now it is time to try and explain in words the ridiculous amount of great musical performances I saw.  There were 1390 different bands that played at over 90 venues across Manhattan and Brooklyn.  Obviously no one person is able to see every show so you have to go by recommendations that you trust.  At the Press mixer on Tuesday I ran into Ariane of Easy Apple Promo.  Her excitement in telling me about the band The Revivalists led me to make sure I got to Arlene's Grocery by 10pm to see their set.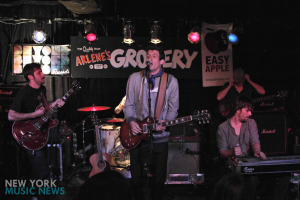 I met up with Patrick of New York Music News and we arrived at the legendary, but small venue slightly before 10pm.   There was already a buzz in the packed room even though there wasn't a band on stage at the time.  The place was actually pretty packed too considering there are so many options available on the first night of the CMJ Festival.  As the six members of the band came to the stage with a saxophone and pedal steel in tow I knew I was in for something interesting.  Right from the first song the crowd seemed to sing back the lyrics to enigmatic lead singer David Shaw.  Why had I not heard of these guys before?  Shaw's front man persona is perfect to lead a band of this style.  He commands the stage and is not afraid to get right in the crowd's face with his soulful lyrics.
Let's not forget the rest of this amazing live band.  The rhythm section of bassist George Gekas and drummer Andrew Campanelli creates a danceable vibe that forced the crowd to move while Zack Feinberg's guitar and Rob Ingraham on saxophone added the highlights to capture the audience's attention.  The addition of Ed Williams on pedal steel made for an interesting touch that many concert goers may have never seen in person.  The crowd crowded the stage and swayed back and forth for The Revivalists entire set, even close enough to swarm Shaw as he leaped into the crowd for the finale.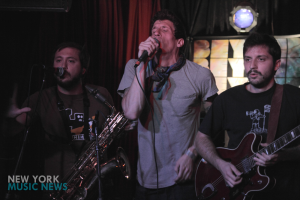 Bottom line: This is a band that needs to be seen live for the full experience.  Luckily The Revivalists don't seem to be slowing down as they have east coast tour dates planned for next month, including a November 16th date at Brooklyn Bowl.
To learn more about The Revivalists and keep up with the tour go to: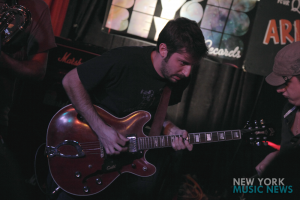 Photo Credit: New York Music News