Music written with meaning and personal reflection will always stick with a true music lover much longer than a bubblegum pop song that is played repeatedly on mainstream radio.  Real issues in song tell a story that can be very relatable to a listener.  A good example of meaningful music is our latest find A.S.H.E.S the Chosen.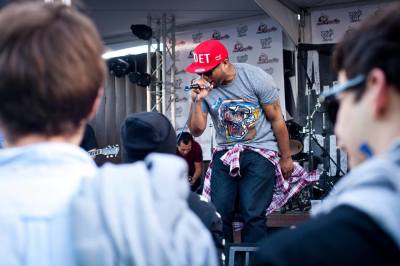 Hailing from the underground hip hop scene of Seattle, A.S.H.E.S the Chosen, along with his band April 12th, produces a laid back hip hop sound that shares personal stories that force the listener to hang on every word.  There is a soul influence that shows its head throughout the music as well.  Things are starting to blow up for A.S.H.E.S the Chosen as his music has been gaining attention reaching the #23 spot on CMJ's Hip Hop Charts and receiving plays on iHeart Radio, as well as numerous local radio and TV networks.  Hooking up with Stampede Music opened up even more doors and had A.S.H.E.S promoting around the country with performances in NYC, Los Angeles, and the SXSW Festival in Texas.
This past summer A.S.H.E.S the Chosen released his album Id, Ego, Superego for free download.  The 10 track record is a complete collection of emotions and narratives that make for powerful listening.  The opener "50 Ways" has a smooth jazz fell in the backbeat but A.S.H.E.S vocals bring it to a higher level of catchiness.  Old Soul music shows its head on "Dear Hip Hop".  The funk drives the track with a female background hook keeping it all together.  The fast paced lyrics keep you chugging along.  The current lead single "Tears In Your Eyes" is the standout track as it tackles the huge issue of domestic violence.  A.S.H.E.S the Chosen attacks the issue from 3 different angles and creates a full story that can be visualized like a movie.  This is a powerful jam showing that there is more to this artist than just dope sounds.  For the closing track "Tennis Court Freestyle" he mixes the dark alt rock of Lorde with his emotional vocals and storytelling nature to craft something bigger than its parts.
Go get a listen for yourself at: http://www.ashesthechosen.com/