For the first night of CMJ Music Marathon 2013, musicians-reviewing-music blog The Talkhouse, hosted a showcase promoting singer/songwriter acts at the Bowery Ballroom.
The standout of the night was headliner Sondre Lerche. Lerche is a Norwegian singer/songwriter based in New York.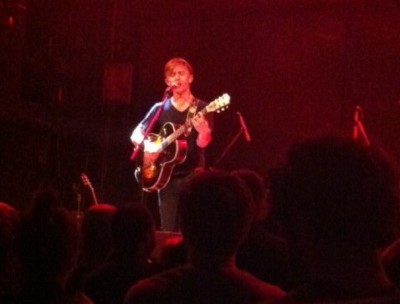 Before he went on stage, The Talkhouse editor-in-chief Michael Azerrad introduced him as an "amazing writer," and referenced Lerche's recent review of Prefab Sprout's latest record. It was a perfect introduction for what proved to be a masterful performance. As soon as he appeared on stage, Lerche's high energy and heart-tugging lyrics enraptured the crowd. Exuding confidence throughout the set, it was hard to believe that Lerche had been on a performance hiatus. He debuted some new material for the audience, and even sang a song for the audience without the aid of a microphone. Overall, the set was surprisingly joyful and likely converted some unsuspecting CMJ badgeholders into Sondre Lerche fans.
Two other notable acts on the bill were Luke Temple and TEEN.
Temple, better known as the frontman of New York-based band Here We Go Magic, was promoting the release of his album Good Mood Fool, released on the day of the performance.  Decked out in a lei, it was no surprise that Temple was quite relaxed on stage. One of his best songs of the night was "Katie," the first single off of his new record.
TEEN, on the other hand, is a 4-piece all-female Brooklyn band fronted by Kristina "Teeny" Lieberson, former keyboardist of Here We Go Magic. These ladies rocked the house with their psychedelic pop songs, and were quite interesting to watch. However, the set was fairly disjointed and lacked focus. That said, the band was at its best when Teeny's vocals were front-and-center.
It was decent showcase to kick off CMJ MM 2013. I suspect we'll be hearing more from these three acts in the years to come.