Another great part of doing what we do is getting advance listens of albums that are not even released to the public yet.  Today I was sent the new album by FallsStart that is not expected to be released until August 2012.  FallsStart is a 3 piece rock/punk band whose sound combines the best of a wide-range of influences and hard-nosed technical proficiency to create something wholly their own.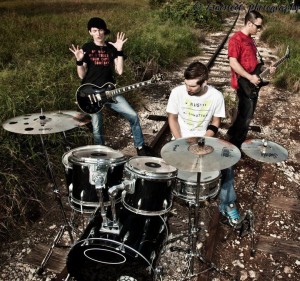 As I listen to the first song and my favorite, "Our Summer," I can hear the guitar coming strong and then the vocals come on and it's a beautiful contradiction. Here is a song with radioplay potential and it's something I can see people sing along to. The singer, Davey Leatherwood's, voice is smooth and then it unfolds. It's a trip where I find myself listening to different elements such as the violin at one point.
 Leatherwood's experience with the violin since third grade is definitely noticed. But it goes beyond that, you can tell these three guys, singer/rhythm guitarist/bassist/violinist Davey Leatherwood, lead guitarist/manager Adrian Cottmeyer, and drummer Jaron Seuis have definitely put work into this EP to get it to perfection.This band that is based out of Honolulu definitely has potential of becoming huge. They have catchy choruses, especially in "Happy Song" that also has a great guitar solo torwards the end. There is certainly some influences from Yellowcard here but they do manage to add so much more to make it their own sound.
 Their influences are definitely there such as in the track "Carnivale" which has a little bit of Panic at the Disco! I am not a fan of this song but perhaps that is because next to other songs it seems to fall flat. The guitars and drums have simple beats, but that is all that they needed to have. Overall they are a band to definitely look out for. Their sound is definitely a blend of what their influences are and they have managed to portray that in a catchy way, and I gotta say, I have some of the songs stuck in my head.
For more info on the band check out:
www.reverbnation.com/fallsstart
reviewed by
-Ana Cordova of Indie Band Guru