As the chaos of the world continues, musicians and music related businesses continue to strive for new ways to make it work. In 2019, I was a panelist for the first time at IndieWeek Canada. It was an amazing experience meeting new hard working artists from North of the border. I was truly excited to make this an annual trip. Well, Covid stepped in and pushed IndieWeek online for 2020. It still went well and I was glad to be a part of it.
Now IndieWeek founder Darryl Hurs is expanding his ways of helping independent artists with the launch of The Screen X Screen Conference. We caught up with the hard working music biz pro to get a deeper look into the past year and the new venture. Enjoy:
Hi Darryl, Great to chat with you again. It has been quite an interesting year. What have you been doing as the Director of Market Development for CD Baby Canada?
Interesting Indeed!
Our clients are artists and artists are hit hard during this time so a lot of focus has been on helping educate and inform artists on how to navigate releasing and promoting their music online. We have been doing a weekly FREE zoom discussion (Indie Weekly presented by Indie Week) with industry professionals with topics ranging from distribution, publishing, playlisting, streaming etc.
I also will be participating in a number of guest lectures with schools including a new program with Ryerson University. Students are the next generation and it is important to help them as they begin their careers.
We've also been supporting artists with resources and trying to be available to answer questions.
Tell us about your decision to change your mind and hold an IndieWeek in 2020 and have it completely virtual?
Well, the first decision was to just flat our cancel and have a year off but as we moved through the year we saw how important it was to be a part of the community as a positive message and aid in providing connections and information as we navigate these times. I am very proud of what our team was able to accomplish in the short time we had to plan, organize and run our conference completely online. The feedback has been nothing but positive along with some great results. This year we are holding more online conferences, mentorships and sessions as we are confident we can continue to provide quality content and help create networking opportunities to create meaningful relationships.
What technology helped make IndieWeek such a success this year?
We audited over 20 online platforms – which is no easy task as they also are pivoting from an in-person platform to online and it's like the wild west. Features, pricing usability are all different so it was a stressful decision but I feel we made the right choice as the platform also gave us an app that our users could engage with and still are!
How has the continued stream of events been accepted by the independent musicians?
I think we are going through a phase where many are fed up with the current lockdown and are eager to get things back to normal. Unfortunately, a lot of the data and information is showing things will be different moving forward so we are providing information to help build new business models that can monetize.
I am very optimistic that new opportunities will provide revenue streams that didn't exist before. Now is the time for artists and businesses to get onboard and learn as much as they can and prepare themselves as much as they can.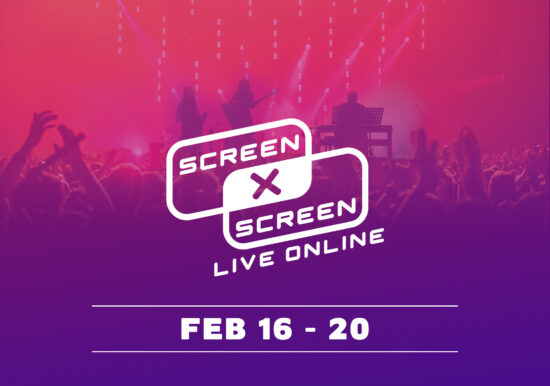 This move to technology seems to keep on growing. Tell us about your newest venture, The Screen X Screen Conference?
SCREEN X SCREEN (Feb 16 – 20) is new online music + tech conference that will bring leaders together to discuss new platforms, new business models and how artists and businesses can monetize their online content. Areas of discussion include live streaming, gaming, AI (Artistifical intelligence), VR (virtual reality) and content monetization.
What do you feel attendees will be able to take away from the conference?
Attendees will be able to hear from leaders in this online space as to where the direction is going and where the money is.
There will also be opportunities to network with delegates and attendees which I find it the most important aspect to any online conference – building meaningful relationships can have a huge impact on your career and we do our best to allow that to happen.
Where do you see opportunities for artists with new technology in the future?
I actually believe this is one of the best times to be an artist than ever before. Sure live is on hold but it allows for time to really get your business in order, create great music and collect from more revenue streams than ever before, not to mention being able to reach an international fan base and keep them engaged with your content.
It takes a lot of planning, research and sweat equity but it's worth it.
The challenge for many is that it is a very different mindset than before but the opportunity is there.
What do you have your sights set on next for IndieWeek?
2021 we are hosting a number of online conferences, not just one.
The first being SCREEN X SCREEN (Feb 16 – 20) focusing on music + tech, then a conference in the spring focused on education for artists and businesses, and then Indie Week in November which will build on what we did last year and be more international than ever before.
We also will be running online mentorship sessions and consulting.
A side business we are working on is working for other conferences run their event – taking the experience we have in hosting online sessions and basically running events for other companies.
The world will always be changing and to move forward you have to change with it. Sometimes we are dealt a hand that doesn't fit our plan but that's what we are dealt with. We are doing the best we can and I truthfully do see a lot of opportunity coming.
I wholeheartedly agree Darryl. Looking forward to the future.
Find more details about The Screen X Screen Conference and the future of IndieWeek HERE. And Buy tickets HERE.