There are bands out there that are looking to do their own thing with their music no matter what the results.  Being part of the mainstream is something that these bands want no part of.  While this may scare away many trend following potential fans, the fans that do jump on the bandwagon hod tight and will work hard to help support "their" band in any way they can.  One such band is one of our favorites fREEX.  We had a chance to catch up with guitarist/singer California recently to get behind the band's mindset as they prepare to release their new record Love Revolution.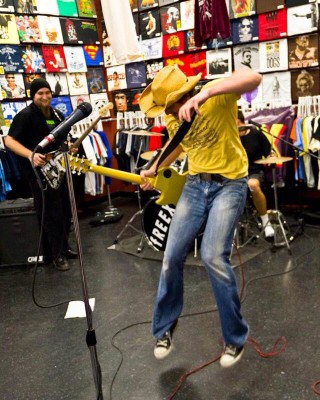 How did the name fREEX come about? (and how do you pronounce it?)
The name, "fREEX," came about when I saw Prince in concert. Prince invited women on stage to dance and he proclaimed to the crowd, "Freaks in the house tonight, folks!" I thought it made a great band name but I dropped the "in the house" part before the release of the first album, "To Save The World" back in 2006. "fREEX" is just a more interesting way of spelling "freaks." I don't care if people pronounce it as "freaks" or "free X."
Your sound is very interesting.  How would you describe it?
Our sound has been described as "free expression" because we draw from all genres and it can't be pigeonholed into any one classification. Basically, we try to write good music, songs that should exist but don't yet. We're not seeking to do what everyone else is doing only 'just a little different.' We want to be wholly original. It is lame when I hear the same bands on the Alternative channel, and in elevators or Starbucks.  We push to sound new.
Your home base of San Francisco, California has long been known for free-expression.  How has the local scene taken to your music?
You'd think that one of the most liberal areas in the country, if not the world, would have accepted musical inventiveness with open arms but that's not how it's been. It's been a struggle, not only to get recognized, but just to be accepted in the local East Bay scene. Because we didn't sound like Green Day or Sublime or like anything else really, people gave us a hard time. Promoters didn't want to work with us and a lot of shows were people just staring at us, not knowing what to make of us. As if people forgot how to pogo or skank.
Who would you say influenced fREEX's sound?
Everybody good in every genre has influenced us. Because we're from the Bay Area, a lot of people will pick up on Green Day, Primus, and the Dead Kennedys as influences but they'll miss the obvious Sly and the Family Stone, Earth, Wind, & Fire, and Prince influences. The Clash's fearlessness to jump headfirst into different genres like reggae and funk in addition to them being punk rock pioneers left a lasting impression on me.
It has been a long 5 years since your last album Simple Good, what have you been up to?
We've been playing shows and working on "Love Revolution."  We took our time crafting the songs into the best form that they could be. I'm really thankful to have had Jeff & Ivan as co-writers on a lot of the songs.
Your new album Love Revolution is due out this month, tell us about the development of the record.
It's been hard. I already talked about how difficult it was playing the local scene, how people gave me a hard time because I played music that was different, that they thought was 'weird' because they couldn't understand it. Plus, all of the burden of financing and organizing the recording of the album fell on me. A lot of other people flaked out or weren't supportive at all. I was pretty broken but I got to a place where I was like, 'I don't care what it takes, I'm going to see this album through. I'm going to finish it!' I believed in the music, in the songs, and I'm proud of how Love Revolution turned out, what the album represents – using Love to accomplish much needed change in our country and in the world.
There was a big record release show this past Friday, what is next for fREEX?
We had a blast at the album release party last Friday, June 19, 2015.  Our friends from Finish Ticket (finishticket.com) dropped by to jam! It was a packed house and people were screaming our lyrics along with us to each song. We got to play an encore set because the crowd was chanting, "fREE-EEX come out to Play-Yay!" over and over after our set. We'll see how the album resonates, promote it, and hope if it creates opportunities. This album took every bit of finances that I could scrape together.   It's been really tough. But I promise that if people want original, meaningful music, fREEX will be there!
Keep up with the latest happenings of fREEX at: http://www.freexband.com/