We have been a fan of UK pop singer Junior Turner and his big voice for a while now.  Finally we had the chance to sit down and get a behind the music talk with him.  Enjoy the interview below: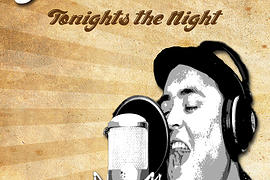 Back in 2010 you were a relative unknown who happened to enter a song contest for BBC Children In Need. After having won the competition how did your musical career path change?
I had been singing since the age of 13 in local pubs and clubs, also around the UK and abroad. Then I had a spell of bad health after suffering multiple blood clots including one in the lung which left me fighting for my life after a short flight to Spain to work there in cabaret lounges aged 18. So eventually in 2010 aged 26 at the time, which I thought my singing days were over, I was asked as part of this pilot idea from the BBC to enter into this project they were running, after I bumped into an old friend. So I did and kind of thought nothing of it. Then all of a sudden it was a like a light switch went on recording studios, video shoots, radio interviews …. social media became part of my life, emails galore complete madness. But it wasn't until it all stopped and I took it all in that I then realised this was my dream come true and I wanted more. I liked the challenge, the buzz, the attention and now I had opened the door I wasn't giving it up after a flash in the pan opportunity
Your music brings in a lot of different genres, how would you describe it?
A lot of music critics often talk of my diversity and it is something again I tend not to think about in terms of it being deliberate or planned. I write the song with a very basic melody and then build outwards and it seems to take place and form its own genre during this process. I am blessed that having been brought up around so many varied genre's given my fathers profession as a local disc jockey when I was young meant my ears were surrounded with many names and styles. This in turn became almost second nature to me in terms of when I began to sing I would only ever cover songs when I could do the genre and original version justice. So I taught myself and created my own tools and comforts in each genre which then in turn became part of my box of masks so to speak when writing songs I would turn it into a genre where perhaps I had heard something similar in my younger years and knew that given other songs had sounded similar and worked then perhaps that song was best of being in a certain genre.
You seem to find songwriting inspiration through supporting causes. Tell us about that?
My first two releases were by chance and opportunity given the BBC release and the time given to me in a studio was utilised quickly leaving me an opportunity to record some demo tracks I had written. One of those tracks was instantly picked up and used by UK war veterans charity help for heroes. So yes my musical career began with supporting causes that appealed to me and I am forever grateful that nearly 5 years later I am still going strong on this path and intend to be around a lot longer too
How does your songwriting process work?
I tend to either write retrospectively after an event or happening or very rarely I find myself seeing or hearing something of interest which in turn becomes the subject of integrity leading to me writing a full song about it oddly ha ha. But I would say 85% of the time I like to use my songwriting as my diary or my release of emotion as I am not one to talk of my troubles or worries. That being said though at the same time my happier moments alike are also captured in music in more or less the same way. I like to work on a subject and build out, normally subject becomes chorus with one melody followed by verses with an alternative melody and a middle 8 section with a 3rd melody of sorts. But sometimes as with Better Day I decided to throw caution to the wind and jokingly when looking for a middle 8 turned into Will Smith of Prince of Bel Air with a 'tongue in cheek' rap part for humour which in turn became part of the song. I am a perfectionist overall though and won't settle until I am happy and more so my trusted fellow few have heard it and are all of the opinion it is right then it can be despatched upon the world and school of thought to be scrutinised and hopefully embraced, adopted into their lives but overall enjoyed and liked.
Who would you say influenced the Junior Turner sound?
Again going back to an earlier question my father worked as a professional disc jockey during my younger years leading up to when I first began to sing so I was always surrounded by music of many genres and artists. So as any normal person would I sort built an array of artists that I liked and certain sounds that made me tick or affected my emotions. My motto which I have is "Melodies make feelings" and if it moves you in which ever way then it is a good piece of music and its destiny has been fulfilled. So again in terms of my sound then it has to be a sound that I know will carry my motto into another persons ears and feed through their mind and heart leaving behind some sort of satisfaction and comfort from the way they choose to adapt and relate to it
Your voice is one of your biggest assets, does it come naturally or did a lot of training go into its development?
I am blessed to have been able to sing from around the age of 12 I began to discover my voice. I was always in school plays in lead roles from my junior years right through to later education and always loved the adrenaline it brought. So when I discovered my voice it kind of went hand in hand. I am however as I have grown older and more mature and wise, a bit more fastidious when it comes to looking after and taking care of my voice. Vocal warm ups and exercises are a must nowadays. Hopefully this will mean I can compete at the top end of my game a little longer and let me make the sort of songs that make people sit up and take notice
A lot of attention has been paid to your music in the US. How are the fans different from your local fans?
The USA has been very kind to me with several state radio chart number 1's and then obviously this year the award for Best Pop Song in Hollywood was simply mind blowing but at the same time left me in a precarious place in thought of my future benchmark had been raised and there was no chance of me being able to if need be, be complacent and think 2nd best could do. Now I was aware the worlds eye was growing in terms of it viewing of me and all I do. So in terms of the USA it has been kind to me and kept me on my toes and making sure my tools are sharpened at every coming. The local support for me is phenomenal I love where I am from I am very down to earth but at the same time the people I have behind me here both locally and in the UK are hitting every ball with me and wanting me to do well which again keeps me on my toes. However when it comes to radio airplay and such it is a little harder given modern day restraints with formatted playlists and major label preference for choice of music put onto those playlists. This leaves perhaps a one in a million chance of an indie artist breaking that mould. However this can be turned into a great target to try and aim to break even if it does seem impossible it keeps the fire burning in the belly and one eye on the dream to keep you working hard at what you do.
Your star is rising, what is next for Junior Turner?
Firstly thank you for that statement, I am very naive when it comes to my position in life or profession so to hear such words is always nice. In terms of what is next is hopefully to continue with the success I have had and gain more, grow my, I hate the word 'fans', so wont use fan base but the general awareness of my music to become bigger and wider afield. Also for the reviews and such from people like yourselves to firstly remain positive but more importantly for me to talk of progress and improvement being made. If that happens then I am happy to continue, know I am going in the right direction and if I can use that to make my cavalry to go to war with the music world then surely common sense would say that my time in the big time cant be too far away. However should the pinnacle moment never be reached, not knowing now what that may be, then I could walk away tomorrow and say I have lived the dream and did it to the best of my ability.
Keep up with the newest music ny Junior Turner at: http://www.juniorturner.co.uk/