This past week, Brooklyn based psychedelic-pop singer Manett released an entrancing new EP. The EP, titled Stigma-Style, contains three great far-out pop songs. Former member of the band Cholo, Manett brings her own unique style of experimental indie-pop to the table. Her smooth and inviting vocals standout and also offer a sense of realness with her rather despairing tone. Though the EP is only 3 tracks, it displays her true musicianship and ability to create a dreamy pop wonderland.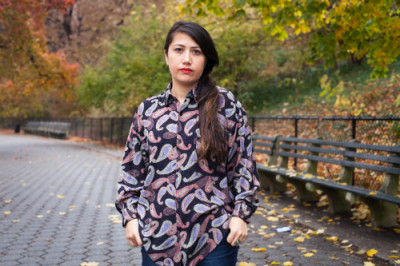 The first track "A New View" opens the EP with some flanger guitar effects that set the mood immediately. The music vibes well as Manett lays her pleasantly mild vocals over the track. The track maintains a nice groove as she layers her harmonies and keeps the chill vibes of the song pushing on. Manett's lyrical skills are very impressive, as she somberly sings, "Though sunlit we falter/through shadows as ghosts/The more that we move it/the less that it goes." This track is a great opener that sets the experimental tone.
Up next is "The Birds (for Paulo)" which opens with the relaxing sound of birds chirping and a single, distinct riff on what seems to be an organ. Though the song begins with just her vocals and the organ riff, the minimal aspect is plenty to start off with and quite relaxing to hear. The song then kicks in with a very rhythmic drum line and unordinary synth lines, which are abstract and very interesting to hear all together. It is a very impressive array of instrumentation and rhythms.
Finally, the EP concludes with the track "Treehouse", which is the least experimental track, but rather more traditional indie-pop. It is absolutely wonderful. It begins with the soothing sounds of acoustic guitar, march-like snare, and Manett's smooth vocals. Manett reflects and plays off the song with her lyric, "Cause when you hear the beating of that drum…", which fits so nicely within the song. This track is a standout and displays Manett's ability to write an indie-pop masterpiece. With her daydream like vocals and the smooth sounds of the instrumentation, the song ends the EP with the feeling of peace and bliss.
Overall, Stigma-Style may be short but it is very sweet. The experimental sound sets it apart from others; however, Manett's influences such as the Pixies and David Bowie can definitely be felt within the music. The instrumentation and lyrics reflect Manett's ability to gather a collection of sounds and emotions and put it all back into the music.
Go get a listen for yourself at: https://manett.bandcamp.com/album/stigma-style-ep 
*- reviewed by Sondra Minnich of Indie Band Guru