In no other city is there such a wide range of sensational concerts and brilliant live shows as in Las Vegas. The city is also known as the number 1 entertainment metropolis in the world and home to dozens of incredible shows and events with something for everyone.
Every year over 40 million tourists fulfill their dream and visit the brightly lit city in the desert. The shows in the glittering metropolis are legendary and so performers, magicians, and singers have shows every evening. To think of Las Vegas is to think of it in fun, vacations, casino games, and of course music.
Not in vain, many call Las Vegas the Entertainment Capital of the World. Although the city is known for offering a wide variety of options to have a good time, the dozens of shows available, considered among the best shows in Las Vegas, are indisputable attractions among tourists and visitors. However, the huge offer can make choosing an event difficult. To help you we have created this list that includes details of some of the best shows in Las Vegas that are truly extraordinary experiences. Here we go…
Mystère by Cirque du Soleil
Cirque du Soleil has amazed many spectators around the world with a variety of impressive shows. But the Mystère show, which is on display at the Treasure Island hotel, is a unique opportunity to see one of the best shows in Las Vegas – the original show that launched the company to international fame. It shows the original essence of the aesthetics and the spectacularity of Cirque du Soleil. Mystère elevates the essence of the traditional circus with physically and artistically complex stunts, its fresh references to classic comedies, and the combination of acoustic and electric music.
Jabbawockeez
Discover the high energy and high-tech performance of Jabbawockeez, one of the most well known and influential dance groups in the world, at the MGM Grand Hotel and Casino on the beautiful Las Vegas Strip. This dance group rose to fame after winning the first prize on the MTV show America's Best Dance Crew. With their white masks, this talented, award-winning hip-hop dance team has been enthralling audiences with dynamic performances for over a decade. Enjoy the incredible choreography, pulsating music, and shocking special effects of this high-energy 70-minute performance. Jabbawockeez at the MGM Grand is nothing short of exuberant and cutting-edge fun.
Le Rêve – The Dream
This fascinating show resides in the Wynn hotel and combines acrobatics, pyrotechnics, lights, music, and different types of dance. It all happens in a theater whose aquatic stage has a capacity for a million gallons of water. That is why all the elements revolve around a water mirror. Le Rêve – The Dream has won the award as the best show in Las Vegas for 6 years in a row and it is a true dream, where the impossible takes shape and becomes reality.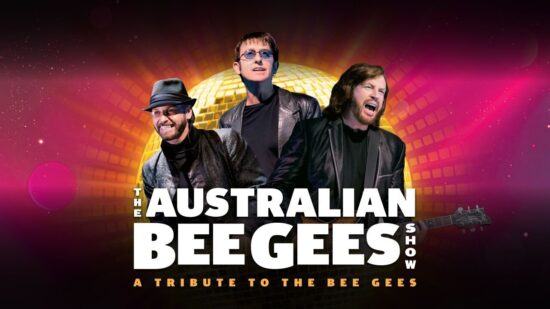 Australian Bee Gees Show
Discover the world's amazing premier of the Bee Gees tribute band in "The Australian Bee Gees Show – A Tribute to the Bee Gees" at the fabulous Excalibur Hotel and Casino on the Las Vegas Strip. The show is one of the most successful and beloved acts in music history and is recreated on the Sin City stage in a great multimedia event. Listen to hits like "Staying Alive", "You Should Dance", "How Deep Is Your Love", "Jive Talkin" and many more.
Popovich Comedy Pet Theater
The Popovich Comedy Pet Theater at Planet Hollywood Resort and Casino showcases loads of furry four-legged friends performing outrageous acts. This unique and fun night includes a leader and Moscow Circus superstar Gregory Popovich, who is best known for his incredible juggling skills.
Michael Jackson ONE by Cirque du Soleil
Cirque du Soleil also pays tribute to the King of Pop with a show recreating his music and dancing with acrobatic choreography and visual effects. On display at the Mandalay Bay resort in the beautiful Las Vegas, Michael Jackson ONE by Cirque du Soleil plays a total of 63 dancers and acrobats on stage to unleash the imagination with the music of Michael Jackson as the soundtrack. Hands down it is definitely one of the best shows in Las Vegas. Definitely something for the top of you list. You can search for cirque du soleil las vegas discount tickets and save some money for another show as well.
O by Cirque du Soleil
Discover the wonderland of water-themed surrealism, craftsmanship, and romance during a performance of "O", one of the most sought after and iconic shows of the Cirque du Soleil in Las Vegas. Combining a troupe of synchronized swimmers from all over the world, daring acrobats, and elegant divers, the show harmoniously blends fantasy worlds above and below the water to deliver an incredible show.
David Copperfield
Clearly, no visit to Las Vegas is complete without a fabulous magic show. Book your ticket in advance and secure your seat to a 1.5-hour magic show by legendary artist David Copperfield. The MGM Grand Hotel and Casino is home to the acclaimed star, who has impressed audiences for years with compelling illusions and fascinating stories.
LA Comedy Club
Enjoy a great night of fun and laughter from some of the best comedians in the industry with this admission ticket to the LA Comedy Club in Las Vegas. The club, now located in the Stratosphere Casino, Hotel, and Tower – in the 160-seat Dragon Room – has been hosting Sin City locals and tourists since 2007. Each week it stages another live comedy event featuring national comedians.
Boxing fights
If you are a lover of this sport, this city is by far the mecca of professional boxing at the highest level, offering the best shows in Las Vegas. Only the most sensational fights are on display here, at places like the MGM Grand Arena. Las Vegas' boxing record includes fights like Larry Holmes vs. Ken Norton, Mike Tyson vs. Evander Holyfield, or Floyd Mayweather vs. Manny Pacquiao.
The magic of Las Vegas casino entertainment
Lights, colors, and emotions of a unique city, which attract millions of visitors every year just for being the home of games and fun. All the beating heart of entertainment, however, is concentrated on Las Vegas Boulevard South, better known as the Las Vegas Strip. Major casinos and luxury hotels line this 6.8km main thoroughfare, home to 19 of the 25 largest hotels on the planet, as well as a number of casinos unmatched anywhere else.
On this fabulous road, there are about 29 casinos and most of these have entered the collective imagination, thanks also to their inclusion in enormously successful films, and to the fact that they have been the scene of sporting events and shows of great appeal. such as boxing matches, or concerts by major international music stars.
In short, for players Las Vegas is also a huge open-air amusement park, where you can admire incredible shows and play in the largest and most famous halls in the world. Visiting Las Vegas for a gaming and casino enthusiast is undoubtedly the journey of a lifetime, so while waiting to plan it well, you can keep fit, and start dreaming, trying to recreate that magic in your living room thanks to the many games available on the internet. Thus, you can easily experience the casino feeling within your own four walls and have a taste of Las Vegas and daydream of being on the Strip, among the lights and colors of the legendary Sin City!
Legends in concert at Tropicana Las Vegas
Get a seat for the longest-running show in Las Vegas by booking the Legends in Concert ticket. Watch in the legendary Tropicana Las Vegas as strangely similar artists pay homage to musical legends of the past and present, such as Rod Stewart, Tina Turner, and Elvis Presley. Live orchestra and dancers only add to the experience and will undoubtedly please audiences of all ages.
There is so much to do in Vegas it may take a few trips there to take it all in. But you will have a good time each time you venture there. Enjoy and good luck.