Why wait until the weekend to fill your ears with dance music.  Listening to a good electronic album can get the blood flowing well even on a mid-week humpday.  There will always be something about that style of music that puts a giddy-up in my step and a smile on my face.  Today I bounced around Spotify until I came across the attention grabbing music of 45trona Ut.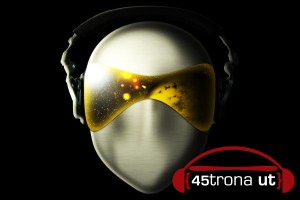 Even the name grabbed my attention as I had to stop and look at it for a moment to figure out that 45trona Ut could be translated from my eyes to my brain as "Astronaut".  That namesake is very suitable for his spacey musical style.  45trona Ut is a classically trained musician with a passion for dance, trance, electronica and funk.  He brings all his skills and knowledge to his party-heavy programmatic work.  The artist has just signed with RLU Records (Rugitui Leonis Universalis).  They are a young upstart American record label that is not restricted to a specific music genre, just great music.
With the help of the new label 45trona Ut has recently released the full length album Funkspatial.  The 11 track record is a journey through space and time showing the influence of classic EDM staples such as Daft Punk, David Guetta, and Tiësto.  The opening title track 'Funkspatial' is a driving dance song with innovative sound structures that keep the listeners attention throughout.  The funk element is felt all over the song.  Jumping out at me was the schizophrenic sound of 'Let's Get Funky'.  The electronica vocals create that robotic taste while the beat jumps all over the place with interesting noises seeming to come at you from all angles.  Enjoy it below:
The astronaut in space theme continues with songs such as 'Exploration Station', Stardust' and 3 tracks with Planet in the title.  'Planet Jsb' is a standout song for its elemental feel that keeps the mood mellow while still playing with your mind in a spaced out way.
Go wake yourself up with a listen at: http://open.spotify.com/album/6fEqZJn2uth613GzcvnetR
You can find out more at: http://open.spotify.com/album/6fEqZJn2uth613GzcvnetR