Being a part of the music and entertainment industry definitley has its perks. I get to experience amazing performances, events, and conventions. Earlier this month I had the opportunity to share this with my 9-year old daughter Grace at the amazing Big Apple Comic Convention. She wanted to share her adventure with the Indie Band Guru readers. Please enjoy the first journalistic coverage from Grace Profeta:

My name is Grace Profeta. On March 10th, 2019 I went to the Big Apple Comic Con in New York City. It was super fun. I dressed up as Hermione Granger from Harry Potter. This is what me and my dad did.

First, we got food. The hot dogs, which were amazingly good were from Feltman's of Coney Island. We also got soda from Wild Bill's Old Fashioned Soda Pop Co. The soda was really good too. There were seven different flavors. My favorite flavor of soda was outlaw orange. The soda was caffeine free too.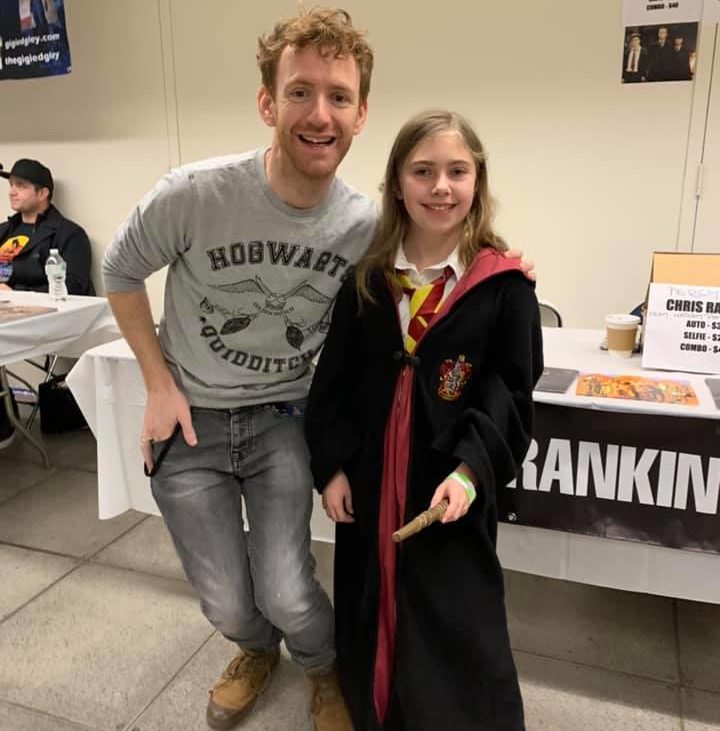 After that, we met Percy Weasley from Harry Potter. His real name is Chris Rankin. Once he saw me he waved me over because I was Hermione Granger and I was from the same movie. I was happy to meet him and took a picture with him.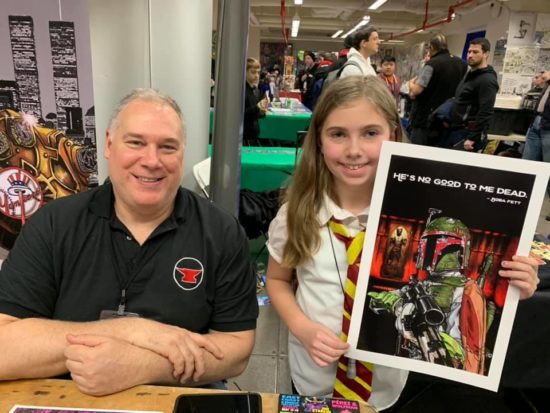 Next we saw all the comics. There were so many! We bought 2 graphic novels and four comic books. One of the comics named Owlgirls was by Dave Ryan. He signed it for me. We also got a poster of Boba Fett signed by Dave Ryan. Dave Ryan was very nice. He talked to me about drawing comics.
Then I did the virtual reality by Popup Gaming. I did the Star Wars Experience. You had to walk around Tatooine doing what Han Solo told you to do. You get to protect R2D2 and fix the Millennium Falcon. After, we took a picture in a Star Trek chair and with a cardboard poster of a Klingon. In the picture with a Klingon, I dressed up as a star trek woman.
We also got to use real comic book ink pens! I drew Star Wars characters. When I was drawing, Pikachu gave me a hug! I was drawing and my dad told me to look behind me and there was Pikachu!
There were panels too! We saw a panel about monsters in movies and video games. Actors use motion capture technology to become monsters. We saw Godzilla and the three heads of King Ghidorah from the new Godzilla: King Of Monsters movie. It was really interesting.
My favorite part of the day was the Padawan Light Saber Training from Star Wars. Me and some other kids learned to do a force push. Then we got lightsabers (which we were allowed to keep). We learned some moves. We fought a Sith Lord and his padawan, and we won! That was the end of the comic con. I loved it! And even though the day was over I will always remember the fun day at the Big Apple Comic Con.

I have a feeling we will be attending more events like this as a journalistic team. Daddy and daughter can't wait. And we will be at Big Apple Comic Con next year, that is for sure.