Rare is the show that gives you everything you're looking for. I was excited to see Jolie Holland in concert ever since I first heard Wine Dark Sea, but had no idea what I was about to experience. I knew I was in for a good show, though, as the Music Hall of Williamsburg is one of my favorite venues. I don't make it out to Williamsburg as much as I would like, so it was a blessing in disguise when I arrived expecting the show to start only to discover the doors hadn't even opened yet. My Jolie Holland experience actually began 2 hours before she even went on stage. After enjoying an hour on the East River waterfront listening to several Brooklynites play some jazz, I made my way back inside the Music Hall just as the opening band, Sly Fox, took the stage. This three piece featuring a powerful female lead singer/guitar player, matched with a jam happy keyboardist and creative and talented drummer made for an amazing opening set. They were very good, so I was disappointed that they played for less than an hour. However, they definitely got me ready to enjoy the headlining act. Imagine my surprise and enjoyment when two members of Sly Fox retook the stage, accompanied by another guitarist, a different drummer, and Jolie Holland herself.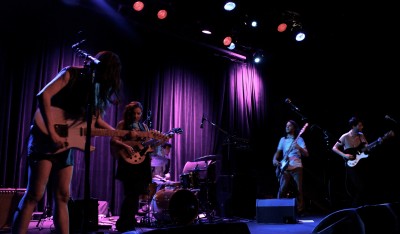 These five incredibly talented individuals played together flawlessly. The next hour and forty-five minutes were a mixture of deep, soulful songs with brooding jazz sounds and a style of rock I want to hear more of. As a seasoned writer, I can usually summarize the experience pretty succinctly, but to do so in this instance would be an injustice to the experience as a whole. As such, I feel as If I need to highlight each member of the band briefly, but individually:
Female Lead Guitarist/ Back up vocalist / Lead singer for Sly Fox: Powerful player. She can shred the axe better than many musicians I've seen, and has a wide range vocally. Very good stage presence.
Drummer for Jolie Holland: Played some very complicated drum pieces, and showed his creativity especially at the end. Not only did he play his kit traditionally, but he also used his cymbals in a way that I've only seen done by Sigur Rós. Excellent player.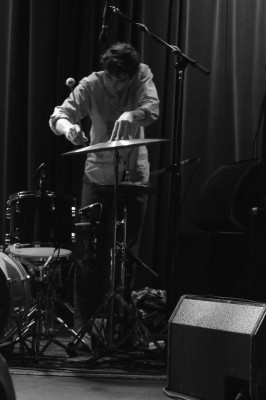 Bassist / Keyboardist for Sly Fox: Definitely the best stage presence. His energy was infectious, as he was clearly enjoying himself as his playing showed it; he is multi-instrumental, enthusiastic, and entertaining.
Male Lead Guitarist: SHREDDER! This guy can wail. I don't think a single instrumental passed when he didn't play something that made my jaw slack. He was my personal favorite to watch due to the overabundance of rock.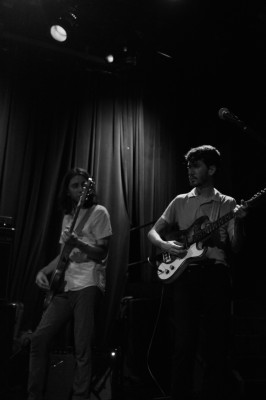 Jolie Holland: Guitarist, singer, and from what I understand brain child of the music that bears her name, Jolie made it a night to remember. Her voice is uniquely soulful put to jazzy and crooning music. Amazingly, my favorite thing about her wasn't her music; it was about her recognition of the talent of her band. Without fail, every time she stopped singing she would take a few steps back and let the band shine. Her ability to share the spotlight with every member of her band added an aesthetic I'm largely unfamiliar with, and it did not go unnoticed by her audience.
As a performer and as a musician, I can't wait to see and hear more of Jolie Holland. She was mysterious and almost playful onstage, which offset her deeper, brooding songs, and she was very short on words in-between, saving the time to give the audience what they came for: a great show.
Show Specs: (Grungy, Jazzy, Brooding Soul jams).
5 piece band: Jolie on guitar and vocals, dynamite female backup vocals and guitar, creative drummer, energetic bassist, rocking male guitarist.
One hour Forty-Five minute set at the Music Hall of Williams Burg (66 N 6th St, Brooklyn, NY 11249).
Bottom Line: Music is great for relaxing (but not to the point of passing out), enjoying a rainy afternoon, or lamenting a long lost lover. Very contemplative sound, soulful voice, and jazzy, rhythmic music.
Venue is in a great area with plenty of restaurants and bars nearby, and practically on the east river waterfront, offering both afternoon and evening activities.
Hear more Jolie Holland at: http://joliehollandmusic.com/
*reviewed by Robert Ledesma of Indie Band Guru