It looks like it is time to bring the Disco-Metal to the masses again!
Our friends from Brooklyn-based Makes My Blood Dance are about to embark on their Disco Metal Tour 2023. And they want you to be a part of it! Grab a couple friends and enter to win a set of tickets to any show of your choosing on the tour. (See our Instagram HERE for more details)
Makes My Blood Dance has been spreading their unique high-octane hard rock sound since late 2017 to an ever growing fanbase. Unique marketing techniques and an unforgettable live show have taken them to underground legend status.
The Disco Metal 2023 tour will kick off on April 11 in Amityville, New York, and will make stops in cities across the United States, including Baltimore, St. Louis, and Cleveland,before returning home for a homecoming show in Brooklyn, NY on April 29th.
We caught up with Makes My Blood Dance frontman Evan Russell Saffer for a little insight on how they made this tour happen.
"MMBD is the promoter, the record label (Alpha Centauri Records) and the headliner. They've built a network across the nation through relentless touring and get the attention of top talent in local markets by offering a lot in return. In addition to digital tools to pack out their shows like QR ticketing, graphics and social media optimization, the band is able to offer some gorilla marketing to up and coming acts that is very unique. "We print about 1500 mixtape download cards and hand them out for free to anyone at our shows. Any artists supporting this tour get on that mixtape and our Alpha Centauri Records playlist on Spotify. This gets a lot of new music out there and directly into the hands of people who love to come to shows, and it's a nice perk when you show up to the venue. In a super crowded online world that really only honors big dollar marketing, that kind of face to face promo is really valuable, especially to touring acts that want to fill clubs. We do a lot of other things as well, including getting on one on one calls with hundreds of acts to help them find the right contacts to move their careers forward, give them advice and direction on booking more shows, merchandise, studio time and pretty much all the things that bands are interested in but don't really know which direction to go in. We don't know everything, but after hundreds of shows we know a few things and a few good people."
This DIY work ethic has made Makes My Blood Dance a truly successful independent band. Their ability to make amazing connections with not only their fans but the people that make the music scene around the country work has set them apart. Trust me this is a band you want to see live.
Here are the tour dates for the Make My Blood Dance Disco Metal Tour 2023
Tue Apr 11 – Amityville, NY
Wed Apr 12 – Garwood, NJ
Thu Apr 13 – Wilmington, DE
Fri Apr 14 – Baltimore, MD
Sat Apr 15 – Marietta, OH
Sun Apr 16 – Westerville, OH
Wed Apr 19 – Louisville, KY
Thu Apr 20 – Arnold, MO
Fri Apr 21 – Cincinnati, OH
Sat Apr 22 – Dayton, OH
Sun Apr 23 – Cleveland, OH
Thu Apr 27 – Albany, NY
Fri Apr 28 – Bristol, CT
Sat Apr 29 – Brooklyn, NY

Trust us and get out there to a Makes My Blood Dance show wherever you can. You will not be disappointed. And if you want to WIN FREE TICKETS to any show on the tour check out our INSTAGRAM for full details.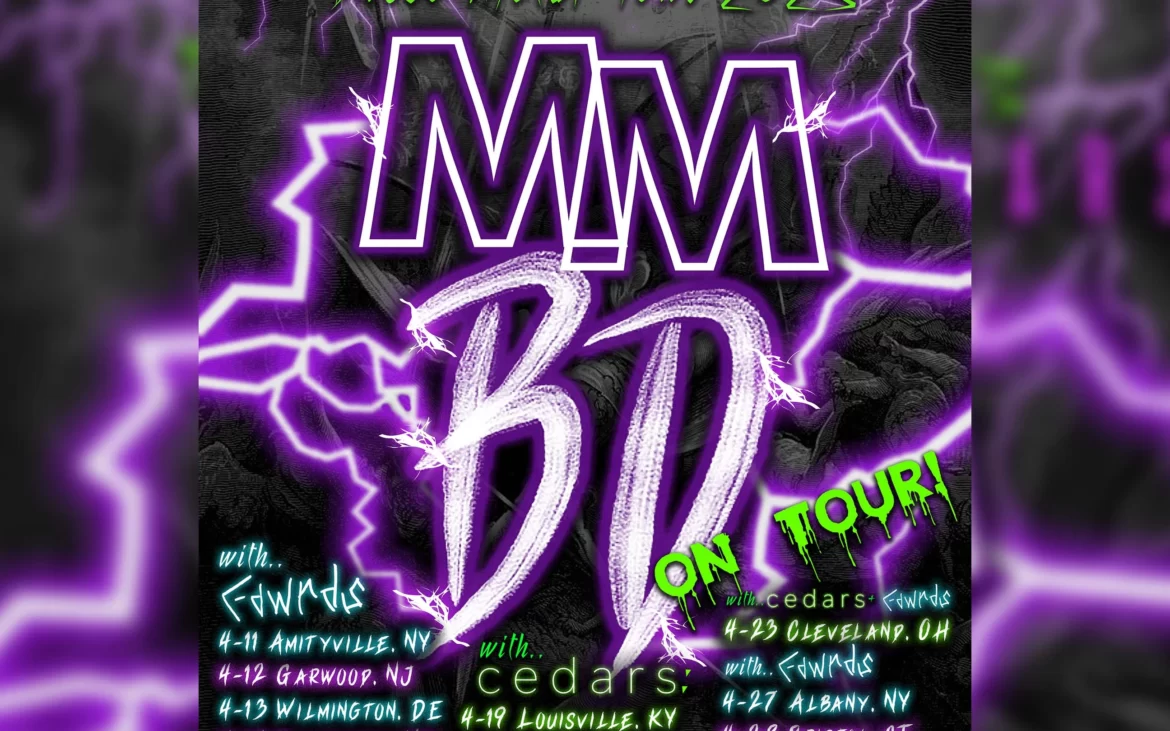 Keep up with Makes My Blood Dance on their WEBSITE.