When a band consists of four distinct members there will be multiple influences within.  Each musician takes their own personal journey to reach their current state.  The formation of a band allows all of these experiences and influences to enter into one complete unit of sound.  A good example is our recent find Mars Royal.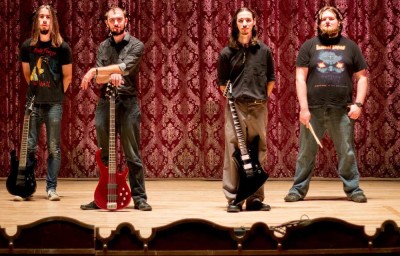 The 4-piece alternative rock band hails from Fort Wayne, Indiana.  The diverse musical backgrounds of the bandmembers has created a unique blend of indie and progressive rock that pulls in a pop feel that has been drawing in new fans.  It is evident in each song that the guys are truly enjoying themselves performing and this energy translates directly to these fans at a Mars Royal live show.
Recently the band released the single "Berzerker" as a precursor to their upcoming debut EP which is scheduled for release as the summer approaches in 2016.  The exotic yet minimalistic pounding drumbeat of the open is shredded when the aggressive guitars come in to explode the track with energy.  The vocals have that sing-along quality to them with the up and down register.  The fast pace of the song leads to some progressive and impressive guitar solos making for a complete track.  This is fun listening and we are looking forward to what is next from Mars Royal.
Keep up with the band at: http://www.marsroyal.com/ 
Mars Royal Music available here:
iTunes: https://geo.itunes.apple.com/us/album/berserker-single/id1040370447?mt=1&app=music 
Google Music: https://play.google.com/store/music/artist/Mars_Royal?id=A65megpp7odgdako4q3c5tbgtfy 
CDBaby: http://www.cdbaby.com/cd/marsroyal