It has been a rough week for Indie Band Guru, in a good way.  Two great festivals wrapping up in The New Music Seminar and The Northside Festival.  And the festival season is only beginning. We sent friend and Singer/songwriter Kenny Fame to immerse himself in NMS.  He came back a very motivated and serious writer.  Enjoy his journey of the last week below:
It was June 8th 2014th and it was a day filled with sunshine in NYC. The weather had been unpredictable up to this point, and NYC seemed to be dealing with a lot of rain shower's this spring season; and so had the rest of the nation, but that wasn't enough to dampen the spirit's of those planning, on attending the New Music Seminar 2014 (NMS14) June 8th– June10th . I was just one of many aspiring hopefuls that saw my future in the music business; for better or for worse & I got all or most of my questions answered by the evening of June 10th 2014. Like many Madonna fan's, I too grew up replaying that Youtube video clip that had gone viral many years ago, in which Madonna very early on in her career, attended the New Music Seminar, as far back as back 1984. She was a part of a panel discussion that was recorded by MTV. In the video clip the viewer got the chance to watch her highness, go to battle against the likes of Hall & Oates; and James Brown none the less, regarding the change in the music industry; and that change being the then new medium of music video's. How those days seem so primitive in this digital age of downloads and steams; some might argue passé considering the fact that MTV spends the majority of its time nowadays not even focusing on music video's. I think I knew early on that this seminar was something that I needed to attend.
The first day of the NMS14 which was being held at the Wyndham New Yorker Hotel, seemed to be the easiest to navigate; due in large part because of a last minute decision to host all of the panels; with the exception of the first panel (which was held in Sutton Place), were all held in the Crystal Ballroom. The choice of making the first panel "The Science of Schmoozing", I personally felt was a logical decision because it set the pace for the whole event; which was indeed a schmooze-fest; but in a good way. I would be lying if I didn't admit that this may have been one of my favorite panel's because I felt that I took the most from it; but the event was far from over after this panel was done. I pretty much sat in the front row during all of the events because I didn't want to miss a single thing; not a breath, a sigh; every note I needed to take & much to my chagrin by the end of day one, Desmond Child gave me everything I needed. "The Art and Business of Songwriter" was a must that every songwriter needed to attend. I knew that it was going to be an excellent panel when I walked into a room that was already full to capacity & Desmond Child hadn't even arrived yet. I sat waiting with pen & pad in hand like the perfect student; and for once not in the front row, due to the fact that I had stepped out for a second to grab some coffee. By the time Desmond Child arrived he was a mood changer for no reason other than the fact they he decided to sing, play piano & discuss at the same time. His panel seemed almost like an episode of Oprah Winfrey's OWN's "Master Class" featuring Desmond Child. His performance of the song "Angel" the song he co-wrote along with the group Aerosmith, left the audience riveted. His advice on the rat of songwriting, left me feeling as though I am definitely on the right path; a path that would continue into the next day of the conference.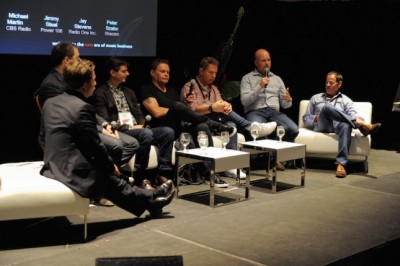 Day 2 it seemed as if the energy had calmed down a bit at least to me. I sat in on two panels in the beginning of the day because there were so many interesting topics, where do you begin? My solution – divide your time. You can't be two places at once but you can run back & forth. I got to meet Tommy Page at the panel entitled "The Branding of Cool"; somebody I had long admired that now heads Pandora; a definite leader in the business. I felt like anything Tommy Page was discussing, I needed to hear. I also sat in on the panel "Turning The Stream Into A River", which took place at the same time as the "Branding" panel; again how can you not attend both if you want a career in today's music? The following panel that I attended was "Music Business Legends". This panel was set up very differently because there wasn't a Q&A. The legends basically spoke & everybody listened; and we would not have it any other way. There was Seymour Stein, Kenneth Gamble, Al Belle, Tom Silverman, Jerry "The Geator" Blavat; there wasn't much that could be said. All you could do was sit back & take notes. There were so many powerful panel's & I walked into many. There were wonderful
lunch break panel's that I assume were put together by SoundExchange because they typically hosted these breaks; and supplied the tastiest finger foods for all of those in attendance. There were also wonderful forums where you basically just spoke casually with moderator's as if you were in an industry meeting room. One such meeting was the "International Music Managers Forum". All of the panels attended even the more casual ones, gave me much needed combat gear needed to make it in the music business.
By day 3 I felt a lot better off than I felt on day one; although many of the things I learned I was doing right all along, but I never knew it. It was the reassurance that I needed & by day 3, I felt as if I had it. My morning began with the panel "Music Video Mandatory"; again this was a must attend panel. I woke up early & rushed downtown just to attend & luckily I did. Every musician needs to know What it is looking for? What is trending on Youtube? What are the new video channels that I need to know about as a musician? This was a panel that I had totally rearranged my schedule around. The final panels I attended supplied me with knowledge regarding copyright infringement litigations, major labels vs. indie labels; and do you an artist even needs to be on a major label if they aren't a pop artist? Good question or at least I thought so. There were songwriting panels, more management panels, more information regarding publishing, more performances by "Artist On The Verge", more after-parties; and after all was done, the only question I had was, when can I buy my ticket to New Music Seminar 2015 (NMS15)?
*written by Kenny Fame
Kenny Fame is an African-American poet who was born in Paterson, New Jersey. He currently divides his time between living & working in both London UK & NYC.  As of 2013 Kenny Fame has added singer/songwriter to his list of accomplishments and is now a recording artist that goes under the name Levi. His album "Kenny Fame: The First Album" is available everywhere now.