There have been many brothers that have shared a musical group together only to fall apart because of silly family squabbles.  This is sad because usually the chemistry works so well since they have been "working together" since birth.  One way that has worked in keeping these partnerships together is the introduction of another member to balance the power out.  We found a group today that fits this mold and may be the next big thing in exotic hip hop.  Let us introduce you to North Star Music Group.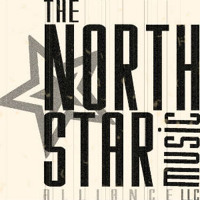 Two brothers from North Carolina are joined by their "sister from another planet" to create something truly unique.  First is 7thSoana aka Solo aka Scott Summersun formerly known as Swag.  He provides North Star with the much needed relaxing Zen.  Other brother Goldie is affectionately known as the group's Ice Cube with his aggressive style.  Stori is the strong female voice that can be composed or in your face depending on her mood.  This mix of personalities acts as the glue that keeps North Star Music Group moving forward as a complete unit.
We were able to get a listen to the groups newest EP titled Sequence #.  The six track record explores many of the deeper and more interesting sub-genres of the hip hop scene.  The opening song 'Cosmo Kramer' is a spooky track with a dub-step undertone that lets it jump all around the listeners mind.  'Long Days, Long Nights' allows the group members to show off their impressive rap flow mixed with a speedy click track all on top of a slow, sultry, and soulful sample.  When 'Dumb Shit' hits we get a taste of the angry side of the group.  A Nikki Minaj influence is heard here through the mish mosh of sound.  The album closer 'FeatherLude' crafts a slowed down strange soundscape to truly warp the listeners mind before North Star Music Group releases you back to the real world.
The Sequence # album has something for everyone.  Go get a listen for yourself at:
http://soundcloud.com/northstarmusicgroup/sets/sequence