Although songs with substance may go over the head of the casual music fan, they will always stand out to the true lovers of music.  An artist that we have covered in the past that dives deep into themes and thoughts in his songs is Hembot Recording artist STV.
The multi talented instrumentalist also known as Steve Counts, began playing guitar and drums at an early age.  As he grew he experimented with more instruments from piano to vibraphone as well as developing a personal vocal style that shares that profound vulnerability with vocalists like Thom Yorke and Greg Dulli.  His music pins you as the fly-on-wall voyeur over a brutally honest collection of songs in which he himself is the subject.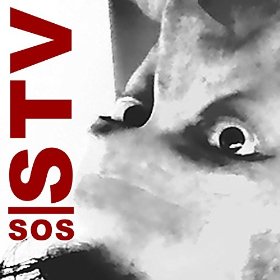 Last month STV released the second collection of songs of his triple album goal.  This one is titled SOS.  The 9 tracks on this album definitely have a darker feel than his first album VCR but there seems to be a light at the end of the tunnel that STV is pulling you through.  The opener "Hidden In The Dark" explores some melodic drum beats coupled with pretty, yet dim, keyboard ramblings.  On "The Rising Light" there is a more aggressive and emotional rock sound that grabs attention and refuses to let go until the listener is fully involved in the record.  
The production of "Tremors" keeps the instrumentation buried a little to let the focus be on the excellent vocal performance by STV.  The angst is powered further by the intermittent crash of sounds that leave you trying to figure out how they were created.  The closer "Such A Woman" reminds you that you have been deep inside a dark and exotic record where sounds can come from all angles to encapsulate you at any time.  The emotions created run deep here allowing the listener to dive deep into the mind of STV.  
Please enter this world for yourself at: http://hembot.com/stv/