Today I decided to do a search for some good music on the other side of the world, Australia in particular.  I have always been impressed with the bands from that country, both because of their similar style to American bands (it is often hard to imagine that they are not from California) and yet the different vibe that their music puts out.  Today's discovery is The Halls.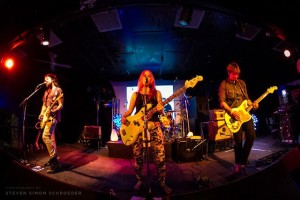 The Brisbane, Australia 4-piece produce a full sound of atmospheric alternative rock music.  The Halls are tough to define into one genre as it seems they are very spontaneous and have the talent to go in any direction they want.  The band is made up of Ross on guitar. Ged on guitar/noise. James behind the drums and Bec at vocals/bass.  I could see comparisons to Siouxsie & The Banshees, Yeah Yeah Yeahs, or even The Pixies.  The Halls seem to have that classic underground alternative air to them.
Late last year the band released a self-titled EP to help get their music out there.  The 5 song set is well produced and has the feel of a band that has been making music together for a long while.  The opener 'Baron Samedi' has a prog rock feel with its jarring drums and guitar style.  The instruments provide an interesting soundscape behind Bec's spacey vocals.  The listener cab get thrown back into the raw early 90's alternative music world with the track 'Thespian'.  This one is full of energy and a driving beat that will force your head to start rocking.  There is almost a little anger in the song that put a snarl on my face.  The Halls bring it down some with the gloomy 'Dancing On Your Grave'.  Listening to the lyrics shows there is some happiness in celebrating a lost life.  Enjoy the impressively filmed video below:
There is defenitley something here in The Halls and we could be hearing a lot more of their music in the US before you know it.  You heard them here first.
Go keep up with the band at : http://www.thehallsmusic.com