Last Thursday, Arizona rockers The Maine played a highly energized set to an excited crowd at the Best Buy Theater. The opening acts for the show included their good friends The Technicolors, who stood their ground and played an impressive set of alternative indie rock jams, showing off their great musicianship. Also joining the tour were pop punk bands Knuckle Puck and Real Friends, who opened up the pit and kept the crowd moving. Each band took their turn impressing the crowd, leading up to the amazing set from The Maine.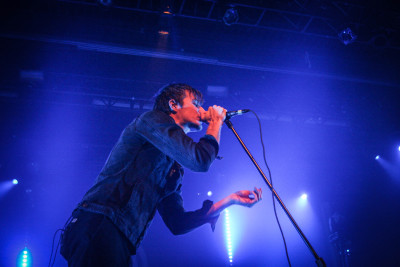 As for The Maine's set, they opened with "Miles Away", the catchy first track off of their newest release American Candy. The song kicked in and lead singer John O'Callaghan's unique vocals were stronger than ever. The guys played a great mix of songs from previous albums such as "Run" from Forever Halloween and "Growing Up" from Black and White. In the middle of the show, O'Callaghan fielded some funny questions from fans and kept the crowd entertained and laughing. He also offered sincere thanks to all of the fans, which he explained, helped him find happiness in his life.
The rest of the band showed off their fantastic musicianship in songs like "My Heroine" and their cover of the Rolling Stones' song "(I Can't Get No) Satisfaction". Lead guitarist Jared Monaco shredded some impressive solos, while Kennedy Brock, Garrett Nickelsen, and drummer Pat Kirch held down the groove.
Some of the highlights of the show included their recent popular single "English Girls", which sounds much like a 90's alternative rock masterpiece. As for other highlights, the band played new songs such as "Same Suit, Different Tie" and "My Hair", both of which pleased the crowd and kept them dancing and singing along.
The group played the title track of their most recent album, "American Candy", which displayed the band's most developed version of their unique sound at it's best. Once again, The Maine has proven that you don't need to be signed to a big label or have a huge radio hit to play for hundreds of people, produce a wonderful album and have success. Check out the final week of the American Candy Tour this week!
Head to www.wearethemaine.net for dates and info!
* – review and pictures by Sondra Minnich