The Verve Pipe put on an acoustic performance of their most notable album Villains on Friday, Aug. 11 at City Winery. For this live version of the album, the band decided to incorporate some instruments not used on the originally produced songs. These new additions included a violin, an accordion, as well as female back vocals. I loved the decision to bring these elements into the fold because I felt that it completely changed how the songs were performed, as well as heard. There was this folksy feel to the music, and the atmosphere only added to that.
City Winery Was The Perfect Spot To See The Verve Pipe Live
City Winery had this unfinished charm and look throughout its modern rustic setting with large wooden pillars and purposefully tattered nails in the wood. The sit down style of the venue complimented the performance nicely, creating an intimate atmosphere.
The Verve Pipe Revamps Old Album
I was most interested in how the live and acoustic version of Villains differs from the original 1996 album. There's an evolution in lead singer Brian Vander Ark's voice, which affected how the songs were heard and interpreted. The musical choices and additions for a live performance versus a studio recording made a difference. Hearing a violin shredded up in collaboration with 90's alternative-rock songs brings a whole new experience to what is being heard. The title track "Villains" begins with a haunting humming that carries throughout the entirety of the song. The opening verse closes out with the line "I haven't felt this good in years". The evolution that's taken place in those 21 years since the songs original release could be felt during the course of The Verve Pipe's set.
Vander Ark made sure to keep the crowd involved, revealing stories behind tracks on the album as the band moved from song to song. He divulged into how the 1996 album came into fruition living out of the recording space in Michigan. As the band readied to play their most famous song, "The Freshmen" Vander Ark discussed the year-long process it took to make the song what it is. He even let the crowd in on the story behind the popular line "I can't be held responsible, cause she was touching her face", which was inspired by The Divinyls' song "I Touch Myself".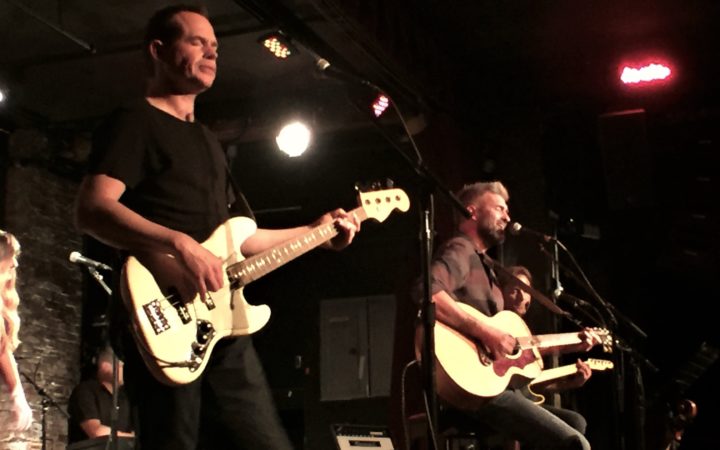 There's something magnificent about Vander Ark's natural voice. His voice is so smooth and melodic, it's hard to believe that it's not being tampered with. The Verve Pipe are something else to hear live. Hearing them play Villains was an incredible experience. The night was topped off with some of the audience's favorite covers such as Feetwood Mac's "The Chain", among others. Check out more on their WEBSITE.