Coined " High-Octane Rocky Mountain DanceGrass" WhiteWater Ramble are sure to provide you with an experience not like you've had before. Their history spans 15 years and 2020 is seeing the release of their third studio album, Pseudonymous. The album features 14 tracks that show off an impressive musicality and WhiteWater Ramble's keen ability to play with genre's.
Lead by Patrick Sites, WhiteWater Ramble brought together the rich history of the band with this new release. Pseudonymous' 14 tracks tell the story of members past and present, with all of them having taken part in the album (albeit in spirit or in the physical). Each song holds meaning to the act and represents a glimpse in time for the members. The album title and cover art reflect the history of the group and rotational cast of characters that fill WhiteWater Ramble's rich past.
And just as no time period in your life goes the same as the one that came before it, no song on Pseudonymous sounds like another one. Opening with a tantalizing number "Broken Rocks," you quickly can see that WhiteWater Ramble is about to take you on a journey throughout this album. The first sounds you can discern are chains being slammed and a gospel choir, and suddenly the beat picks up and the song reverts to the upbeat, bluegrass sound the band is known for.
"Hollow" is one of the many tracks on the album that features a special guest, this time it's Chris Pandolfi of the Infamous Stringdusters on banjo. The instrumentals are the shining moment for this song, it's impossible not to get hooked into the intricacies of the banjo or violin throughout the number. "Hollow" seems to be the most quintessential WhiteWater Ramble track on the entire album, and it's certain to be long time fan's favorite track.
WhiteWater Ramble keep you on your toes throughout the entirety of Pseudonymous, constantly changing gears between songs and within them as well. "This 'Ol Guitar" takes you back into the 1930-40's with a big-band swing vibe, everything about this song wisps you away into a soda parlor filled with couples swing dancing. It's a fun change of pace from the rest of the album.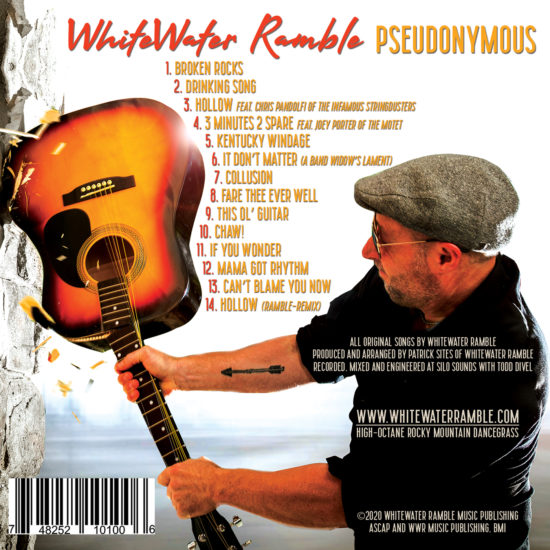 WhiteWater Ramble delivered a beautifully crafted album with impeccable instrumentation. Even songs without vocals felt as though they has purpose and meaning in this album, and WhiteWater Ramble is an act you'll want to follow if you can appreciate their intricacies! You can find Pseudonymous on SoundCloud and CD Baby.
Follow WhiteWater Ramble On Social Media