Social media has become the leading way for artists' careers to blossom with new fans. Many artists' entire careers are based around their social media presence. If you and your band aren't making your music and personalities known on social media, you're missing out on the potential to make your career grow.
While she's now a major player in top 40 radio, Halsey had her beginnings posting covers and her own songs on Tumblr. Her sizable following on the blogging platform gave her some radio play before she was even signed to a label. The non-traditional path that Halsey took earned her respect with her original fans that have stuck around even two albums later.
If you're not capitalizing on your social media presence and proactively working to grow it, you're missing out on a huge section of people to listen to your music. You could be the next big thing to break through, but you need to use your marketing tools to your advantage.
You're probably asking, What do I need to do to have a successful social media presence to grow my career?
Think about what social media you're actively using.
Instagram might not be your thing and that's okay. Why have one and only post to it a few times a year. That won't make fans want to follow you. Or even when you do post, they might miss it because of Instagram's constantly changing algorithm.
While having a presence across all major social media platforms can be beneficial, it will not be as productive as making one, two, or three as stellar as possible if that is all you can currently handle.
Work on making the social media platforms you think are the most beneficial for your band the best they can be. Work on crafting posts for those that represent you fully before you take on another platform.
Once you feel comfortable with the platforms you're using, look at expanding on to another to reach your fans from as many angles as possible.
Analyze how you're using your social media accounts.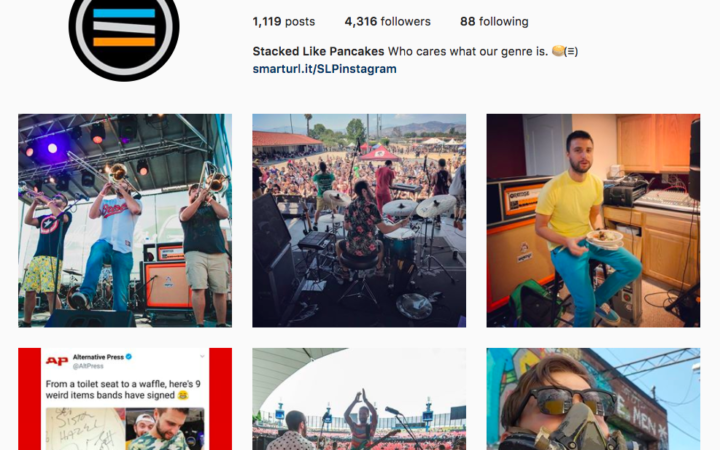 The more proactive time you put into your personal social media and your band account, the more your music benefits. Just having an account on Twitter, Facebook or Instagram means nothing unless you use it in a way that generates attention to what you're doing.
If your band's Instagram is only a collection of tour dates or pictures of nothing meaningful, or even food pictures (I've seen it), what is that doing to promote your music?
Your Twitter should not be just a constant list of links to Soundcloud or YouTube to check out your latest release. Same with Facebook.
While these posts are important to show your band's' personality (which is important, but we'll get to that in a minute) and promote what you've been working on, it cannot be strictly one or the other. There needs to be a balanced mix of posts to make fans want to follow you and interact.
Find the balance between promotion, bragging, and personal posts.
First, let's define the difference between the three.
Promotional posts are about what you're selling. That could be a new music video, your latest single, EP or album, even the link to your merch store.
Bragging posts show off an achievement that your band has recently hit. Are your Spotify streams increasing, have you hit a milestone on Twitter, or did you win an award? These show fans that not only is your hard work is paying off, but the hours they put into listening to music, watching music videos, their "follow" or "like" is actually worth while.
Personal posts show off your life. Think about what you'd post about your personal life and what you want fans and followers to know about.
Now, you have to find a balance of what your fans want to see. This also includes reposting content (i.e retweets, regrams, sharing on Facebook) as a feed of just your posts can seem annoying when scrolling. And while you don't need to sit down and calculate out percentages of posts you should do on each topic, it is important to switch it up and see what your follower respond the best to.
one million video views on hoodie what whaaaat https://t.co/CQIsImVwfc pic.twitter.com/IowmSieG8c

— HEY VIOLET (@HeyViolet) September 14, 2017
Actually interact with your fans, but not too much.
Fans love it when you interact with them on social media. From retweeting their fan art, responding to their love for your latest release, to liking a concert post on Instagram, it's important to let your fans know that you see what they're saying.
Interacting on social media will make your band look like you're putting in more effort than it really takes. It's fun to scroll through your mentions and see what fans are saying. Noticing them can even make their day. So, the next time you see a nice comment or tweet, do something about it.
However, it is important to find a balance and not respond and repost to everything that fans say. That could take hours, depending on the day, and some posts aren't worth responding to. Making sure you're finding the balance on what you're posting is important.
Whatever you do, stay consistent.
Posting a picture on Instagram and disappearing for three months is a great way to lose followers and fans.
While you don't need to post something every day on every platform, it is important to find a schedule that works for both you and your followers. This feeds into making sure your posts are relevant, too. Don't just post something, to post something. Take some time and think about what you're posting.
You can even use social media management tools that allow you to schedule out posts to make your life easier. There are free options available and paid upgrades. So try out Hootsuite, Buffer, or Metricool and see if a management tool can make social media seem like less of a chore.
While social media is consistently changing, it's important to keep an open mind. Just like with your music career, it takes hard work and dedication to grow your social media presence.
Going viral is just like being a one hit wonder. It may seem great in the moment, but everyone quickly forgets about you. So don't get discouraged when it takes time to get noticed.
If you need help on getting your social media off on the right food, check out how Indie Band Guru can help.