-live review by Tom Scarcella – photos by Joe Marinaro
Returning to the stage last Friday for the first time in nearly a year, singer/songwriter Devon Welsh treated fans to an intimate set on a balmy night in Williamsburg, Brooklyn. Welsh, previously the frontman of electropop indie-standout Majical Cloudz, delivered a soaring and spectral performance at Union Pool, the pool-supply store turned divey hipster mainstay.
It was a fitting location for Welsh, as he's also gone through quite a metamorphosis. After his previous group disbanded, he forged a distinct new identity and solo career — truly solo, as he's abandoned institutional support in favor of releasing music through his own record label. That steadfast commitment to individual expression undergirds Welsh's output, marked by vulnerable musings on love and life, and Friday's show was no exception.
Lending his heart and time to the crowd, Welsh laid it all on the line.
An army of one, he played the set entirely by himself, with no instruments other than his electric musical box. This minimalistic approach helped concertgoers connect with Welsh unobstructed as he showcased tunes from his debut album Dream Songs and a handful of dazzling recent releases, including songs that, according to him, he was playing live for the first time. Even in a packed-out room, it felt as though he had invited a cadre of close friends to see how he'd evolved and what he'd been working on.

A delight it was, to be one of those close friends. Welsh came to Williamsburg ready to unveil the latest incarnations of his confessional style and signature optimistic melancholy. His full-bodied vocals — reminiscent of Morrissey's crisp, buttery tenor — seared through the lush chamber-pop backing tracks, carrying the crowd ever farther away over the course of each hypnotizing number. By the time he reached the solemn, introspective "Uniform," one of the new tracks from his upcoming LP True Love, I found myself feeling oddly calm, drifting skyward in a hot air balloon to transcend the grit and grime of the city. "I'll Be Your Ladder" is an apt title for another uplifting dreamscape well-performed at this set. A certain soothing yet upbeat energy was maintained throughout this ride: the pulsing rhythmic undercurrent, harkening back to those Magical Cloudz origins, kept the set caffeinated even as the tempo slowed amid a few overly dirge-like indulgences.
While the sounds and textures skewed cosmic, Welsh himself displayed a refreshingly grounded stage presence. "Earnest" is the best way to describe it. Dressed in a black tee and black jeans, upright and confident about his message, he resembled a humble, softer version of Steve Jobs. He's clearly proud of his creations and eager to reveal new directions, but this self-assurance was tempered by a striking humility. Welsh made a point to introduce and explain each song, peppering in earnest expressions of gratitude. (These sentiments may seem obligatory for any talkative showman, but somehow, he really seemed to mean it.) This sincerity began before his show even started: I was surprised to find that Welsh — or maybe just Devon, here — was easily mingling among the audience while the opener was playing. And after his set, he jumped right back to Earth to wax casual with anyone who cared to chat.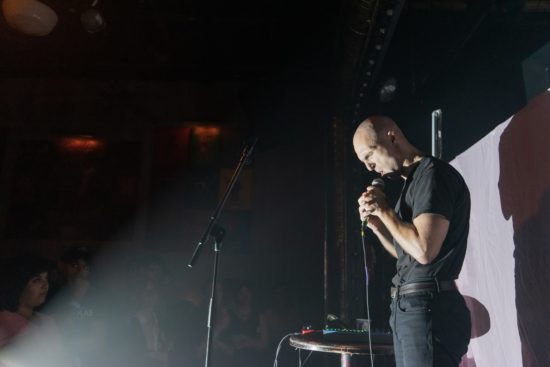 Clearly, I very much enjoyed this performance; it was my first time seeing Devon Welsh, but it won't be the last. At some moments, I did wonder if any additional musicians would have created more balance and cohesion — and I couldn't tell if the acoustics of the venue were off, or if he's just not quite mastered the art of volume control when it comes to dynamics, especially those tricky sustained notes. Minor gripes. Welsh gave his heart to this crowd, marking a triumphant, cathartic resumption of his live performances. If this show is any indicator, the next major milestone on his solo journey, the sophomore LP, is going to be excellent. I look forward to having a fast-track ticket to float above the clamor of city living, as I did at this memorable concert.