As we wade our way through the multitude of talented artists out there in the independent underground we sometimes meet some real characters that can truly explain a common mindset of the indie artist.  Today we would like to feature a guest post from the innovative mind of art-hop musician Evan Tyler.  Enjoy and relate: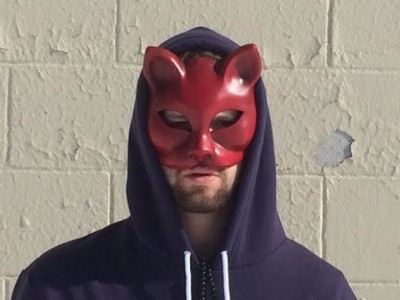 Evan Tyler
ABOUT ME
I am an art-hop rapper based out of Toronto, Canada, where I have lived for the last five years.  I originally hail from Regina, Saskatchewan where I was born and raised.  The geographical transition from a small prairie city of relative isolation to the fourth largest city in North America, was a dream fulfilled.  I have always had a crush on big cities,  specifically New York City.  I consider myself a "copycat" New Yorker, and even though I have lived in Toronto for some time, my love for the prairies will always be part of my essence.  The environment that I grew up in was and still is to my creative cylinders as close to my heart as the frenetic urban world of "Torontoism".
Apart from rapping I also work as intermedia artist, primarily in video, drawing and performance. I don't tend to separate any of it though — raps, images, videos, drawings, they all come from the same place and are addressing the same narrative that lives inside of me, that being my subjective and bizarre experience with the human condition.
I've had an interesting relationship with confidence in relation to the things I make and put out into the world for other people to interpret and say "Hey, look at that thing Evan made. It sucks."  Or, "Hey, this is neat."  I think artists, musicians especially, almost as a form of survival, are driven to think they are entirely unique and worthwhile in their craft and that one day people will validate it. For the ones that do get validation on whatever level, whether it be a solid fan base or just some positive comments on facebook, that validation becomes like a drug. The tragedy is that sometimes without the drug the creative process suffers because in effect we have just become drug addicts of a peculiar beast. I also think while we tell ourselves "I'm great" or "I'm really onto something here", simultaneously other tapes play in our heads, the most prominent one for me being: "There's so many talented risk takers out there, how do match up against them?"  I find that's the most unhealthy tape that plays because my focus is directed at what other people are doing rather than my own innate need to create music. Luckily having been through the contemporary art machine and on the fringes of the music scene for years, I'm at a place where I'm entirely happy just making my raps and releasing them for the sake of that in itself. Whatever the reaction or success looks like, it's completely at the bottom of my priority list. My priority is to do it cause that's me. Yes, ideally I'd love to do a track with Sade and get signed to Stones Throw but my love for making music doesn't rely on those fantasias.
MY ALBUM:  "CAT RAPS"
"CAT RAPS" is my debut solo album.  I have been rapping and making music for just over a decade.  I took a four year hiatus when I became the owner and operator of the once contemporary art gallery in Toronto known as gallerywest.  With that experience behind me, my efforts have shifted to making things of my own as opposed to representing things other people make. The album thematically characterizes cats as creatures who are symbolic of an acute and "wondering" mind in addition to their spectacular "chilling abilities".  "Chilling" is an important staple of hip-hop, and one I enjoy bringing myself back to.  I have lived with two cats for eight years, and they have inspired me so much, that I consider myself a "human cat".   The cat mask that I wear acts as my uniform in music.  We all wear uniforms, the cat mask is mine. I like bold music that holds no punches, but leave room for nuance.  The songs on "CAT RAPS" offer vivid imagery: places, things, times, sites.  Other songs are grounded in ideas like falling in love with a laptop, or probing hysteria described as "just overly dramatic".  You won't go far into the work without hearing a cat reference or one of my cats, Piewackett or Miss Priss, purring, hissing or shrieking over the tracks.  You will hear them on the intro and the outro.
WHAT'S NEXT?
More rapping and collaborations!  My next album is titled MUSEUMARANG and focuses in on the conceptual side of things.  Stay tuned!
I am currently collaborating on projects with artists, Ira Lee (Berlin); Polly Say Phalle (Paris); VHS HISS (Austin, TX); and xxlvannaxx (Forest, USA).  My dream is to work with Sade, but I'd settle on just meeting her.
Keep up with the beautiful mind and music of Evan Tyler at:
Soundcloud: https://soundcloud.com/evantylurrr
Twitter: https://twitter.com/EvanTyler2
facebook:https://www.facebook.com/evantylurrr
Tumblr: http://evantylurr.tumblr.com
Visual art: evantyler.ca