Festival season is approaching! It's that time of year again and there's a lot of buzz around Firefly Music Festival 2018, which goes from June 14-17 this year. Their killer lineup was announced in January, making it feel impossible to wait for June 14 to finally arrive. Seriously, it's going to be a long three months soaked in anticipation.
Firefly

Become

 T

he

Killers

 w

ith

 n

ot

 s

o

'

Humble

'

Lineup
Just by looking at the headliners, you know a good time awaits. Eminem, Kendrick Lamar, Arctic Monkeys, and The Killers already give rap and rock fans something to look forward to.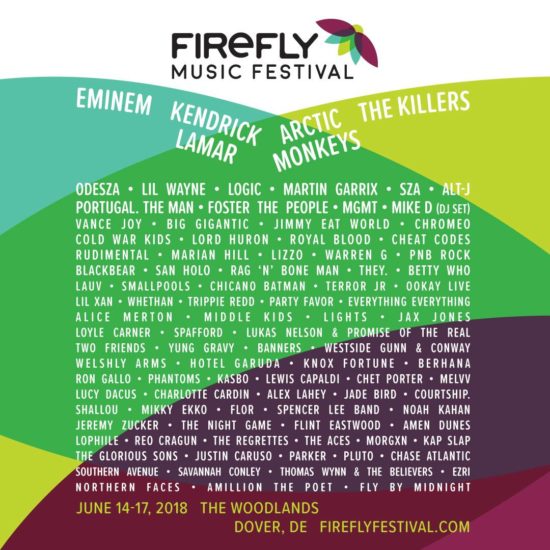 Of course, there are still some lesser known bands who are ready to be discovered by music lovers searching for new artists for their summer playlists. Middle Kids, Smallpools, San Holo, Foster The People, MGMT, Jimmy Eat World, and ALT-J are just a few artists we're excited for. Not to mention Logic, who blew up the charts with "1-800-273-8255" last year.
The best part about Firefly is the endless amount of music you get to be around for four days straight. The Woodlands flood with music lovers (the best kind of people) and the happiest ambience you could be in.
Having attended in 2016 as a regular festival goer and then worked it in 2017, I can guarantee that it is an experience you will never forget. It's almost dangerous because of how addicting it becomes. The incredible food, lively and perfectly positive environment, and the sweetest people you'll ever meet make it one of the most cheerful and memorable experiences.
Firefly Creates an Unforgettable Experience
If you're 21, you get to enjoy The Brewery and a one-of-a-kind Firefly Ale. You can also delight in other craft beers and support local Delaware businesses.
After, you can experience The Coffee House for more intimate performances or The Thicket for a dance party in the heart of The Woodlands. Please your inner hipster or entertain your DJ loving self. Although it's all too exciting to want to take a break, you can sneak away for a moment to The Nook and relax between sets to recharge your physical and mental battery.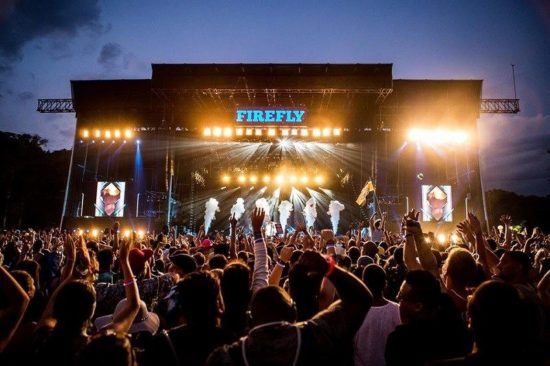 The food at Firefly is a whole experience on its own. Definitely something you will think about yearlong if you love food as much as I do. Just take my word and believe me when I say you will fall in love with it.
If you're worried about mementos and finding handmade gems, Firefly also has you covered in that area. Head over to The Market and check out all the goodies they have to offer.
Finally, Firefly also provides you with your basic needs such as showers, water, and friendly campsite neighbors. That is if you choose to go the true festival camping route. You can even go have your hair braided and done up by people that are a lot better at it than I ever will be.
And there is always, of course, the music.