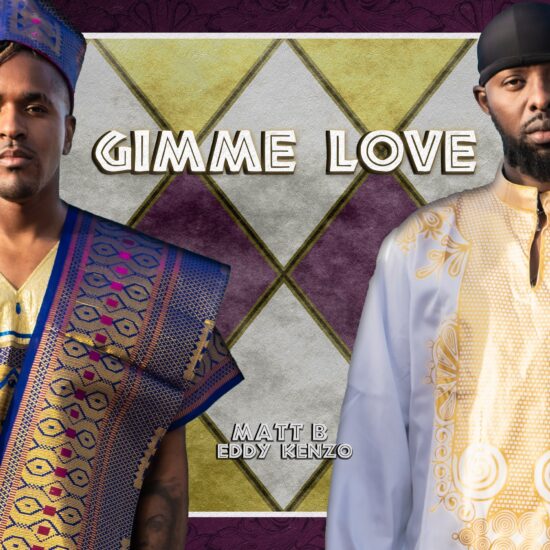 Despite its lively grooves and inviting hook, vulnerability is one of the more important themes in the new single "Gimme Love" from Matt B and Eddy Kenzo, and it's presented to us in everything from the lyrics of this song to the imagery within the music video. Matt B isn't shying away from the guts of the narrative in this piece, and in choosing an artist like Eddy Kenzo to step up to the plate with him, he makes it rather difficult to accuse either party here of letting the story slip away from their potent vocals.
These harmonies are quite fetching and had my attention from the start of the song forward, and I think it was good of these two to make this track as melodic as they did. This is constructed to be a fluid pop single, with perhaps a bit more physicality than they ended up including, but that makes the light vocals all the more intriguing to follow here. Sometimes you can make big statements with the most fragile of harmonies, and when you're as good as weaving together a piece as these guys are, it sounds all the simpler to put into action.
The chorus of "Gimme Love" is as purely pop-oriented as possible, but it doesn't feel like a different artistic trajectory from what we begin with in the opening bars of the song. Matt B is looking to create something somewhat progressive with this release, and to some extent, I think he didn't have a choice but to go with a layered arrangement, if for no other reason than to make the flow of the verses into the chorus a little smoother and less rigid than it would have been. He's putting a lot of thought into this, and anyone with an ear for pop music is going to notice.
"Gimme Love" is experimental in all the right ways, and judging from what it tells us about Matt B and Eddy Kenzo, I think this isn't going to be the lone hit they submit as individual artists or as collaborators. There's a lot of talent between the two of them, and they aren't letting any of it go to waste here; through the delicate molding of a groove, they find the perfect foundation atop which to layer one sleek melody after another, and I'm looking forward to hearing what they do in future sessions after this release.