One of the best things to see for a band on the rise is a crowd that still not only adores them but truly connects with them. I had the opportunity to witness this amazing connection a couple weeks back when I saw Highly Suspect perform at Webster Hall in New York City.
The band was formed back in 2009 in Cape Cod, Massachusetts as a bar cover band by twin brothers Ryan (drums) and Rich (bass) Meyer and singer-guitarist Johnny Stevens. In New England, and then their new home, Brooklyn, NY, Highly Suspect became known as an energetic rock band that was willing to share their fire with any fan who wanted to be a part of it. 300 Entertainment picked them up in 2015 and released their debut full-length Mister Asylum. The album went on to win a Grammy for Best Rock Album with the lead single "Lydia" taking Best Rock Song as well. Things moved fast but Highly Suspect never lost the fan connection that got them there.
As the crowd builds in the main room at Webster Hall, a wave of excitement is felt every time a roadie crosses the stage to make last minute adjustments. These fans are ready to see the first headlining gig by Highly Suspect at a venue they have played at many times before.
The band takes the stage with praise to all that are part of their new family. The opening song is their cover of the 1984 track "Send Me An Angel" by Real Life. I'm thinking the band and the fans know the original song better from its stint in the Grand Theft Auto V video game. A little mellow to start a rock show but the crowd was into it.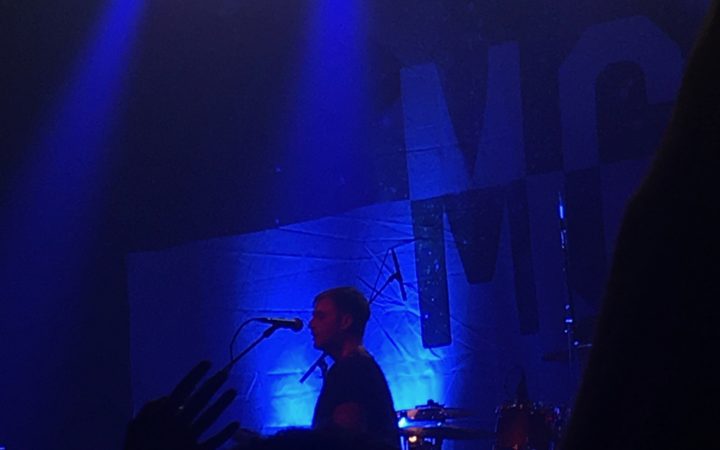 From there Highly Suspect dove into a few off their previous record Mister Asylum. The crowd knew them well and the place was pumping by the time they got to the energetic banger "Bloodfeather".
Johnny Stevens took multiple timeouts to address the crowd (including when he broke his favorite guitar). He shared his real feelings for what the band has accomplished with the help of their fans. The huge banner behind them had 'MCID' in large letters. He brought that up a few times and even has those letters tattooed on his knuckles. Admittedly, I had to do a little research to discover it means "My Crew Is Dope". I read an interview with Johnny where he says "We have this thing called M.C.I.D. ( My Crew Is Dope). Anybody's invited, just don't be racist, don't be homophobic. That's it. Don't be an asshole. That's part of our lifestyle approach, which is bigger than the band". I am now a proud member!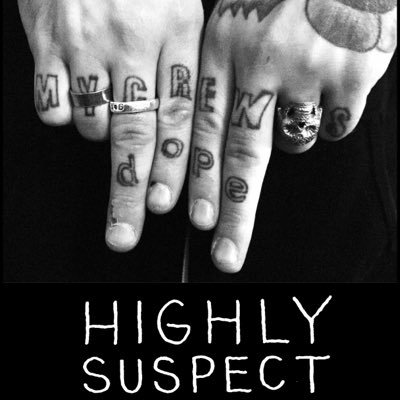 Now with everyone aware that they were part of the club, Highly Suspect ripped through their wide variety of hits from the punk laden "Fuck Me Up" and "Claudeland(Dance Mother Fucker)" which started a dance party including some crowd surfing. They continued with the thoughtful and lyric heavy, grinding "Lydia" and their spacy hit off the new record "My Name Is Human". My new personal favorite "Little One" mellowed out the crowd having them all sway together in unison.
Somehow Highly Suspect is able to blend all these different genres together into one sort of indescribable unique sound. There was such a feeling of pure rock and roll love with everyone just happy to be a part of what the band was sharing with us all.
I did like Highly Suspect before this show but now consider myself a rabid fan who will follow them to the end of the world with all the other members of my new crew. And what a Dope Crew it is!
The summer of Highly Suspect will be full of music festivals in Europe and America. Keep up with their schedule and get deeper into their world HERE.