Rock was ,and still is music that moves borders. And rock stars have come a long way. From being accused of worshipping demons at the very start of the genre to being new-style gurus in modern times. And facial hair has always played a significant part in their style, especially beards.
So, let's look at some rock stars and their beards!
5 best beards in rock
Billy Gibbons
The first beard of ZZ Top, a band known for majestic facial hair (see image above). Well, that, and making everlasting hits. Billy is the best hybrid of beard and guitar playing. Not many people can pull out this type of (ginger) beard that goes way down to the belly button. The only real competition he had was Dusty Hill, a bearded brother and lately deceased former colleague. 
Bonus: In 1984, Billy and Dusty declined a $1 million offer from Gillette to shave their beards for a commercial. Billy's exact words were: "No dice. Even adjusted for inflation, this isn't going to fly. The prospect of seeing oneself in the mirror clean-shaven is too close to a Vincent Price film… a prospect not to be contemplated, no matter the compensation."
George Harrison
Beatles started as a band with baby faces and catchy music. Then they gained fame (and money) and started experimenting. Spiritualism, Yoko, and facial hair. George Harrison did it best. His messy goatee went great with his ascetic figure and the Indian spiritualism aura he nourished. Also, he wasn't dating Yoko, and that's always a plus for your health. The "quit Beetle" definitely won the beard contest in the Beatles.
Bonus: A scene from "A Hard Day's Night" where young George (before his beard) shaves a mirror.
Jim Morrison
Wait, wasn't he always shaven as a baby's butt? Not at all. The early, young look is the way the fans usually depict Jim. Later in his career, The Lizard King embraced the messy, full beard. With his unruly, wavy hair, Jimbo looked like an avatar of Dionisyius.
Bonus: There is an unconfirmed theory that Jim grew a beard as he wanted fans to stop depicting him as a sex symbol and start seeing him as an artist. Of course, it didn't work. Jim stayed one of the biggest rock sex symbols ever. Beard or no beard.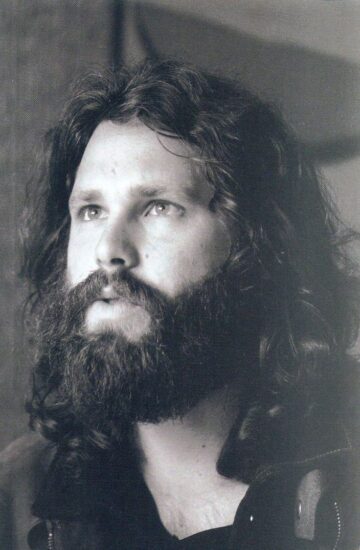 Kerry King
What's a metal guitar player without a beard? Kerry has a magnificent one that stretches almost to his crotch. But not like the modern beards, neatly trimmed and cherished with beard oil and combs and trimmers. No, this is a pagan Slayer beard that sings the song of death and destruction and golden times of metal music. 
Bonus: Tony Campos from STATIC-X looks like Kerry's counterpart, and that's no mere coincidence. After one concert, Kerry approached Tony and commented he had grown his beard wrong. One thing led to another, and now they look like bearded twins.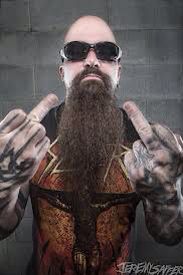 Nick Oliveri
Nick is usually known to the broader audience as a former member of Queens of the Stone Age. Nick is also a proud owner of a messy, not-so-thick beard that usually goes to his chest. To be honest, on most people, this beard would look shabby and hobo-like. But Nick is pulling it off, and we mean it. Big time.
Bonus: There is something special with bald people and messy beards. The X factor, which adds to the wild sex appeal. Especially when Nick got arrested in Rio de Janeiro in 2001. The charges? Nude performance on stage.
Wrapping it up
Rock and facial hair have always paired exceptionally well. Except for the greatest rock singer ever, as chosen by Rolling Stone Magazine. 
Impossible!
Blasphemy!
But yet, true. Aretha Franklin, of course never grew a beard, lol. So many other great rock stars did though at one part of their career—even Elvis.