80's movies have a special place in my heart. And among them, is the movie Heathers. So when I saw that Sundae Crush was referencing this iconic film in their newest music video, I was ecstatic. "Lick It Up" recreates the tension filled climactic ending of the movie (which I won't spoil for those who have not seen). Directed by Trixxxy Poodle, the video was also shot at her house and edited by Izaac Mellow.
"I'm so glad I got to lyrically write about Heathers, it's one of my favorite movies. It was really fun filming this video at Trixxxy's house, she really made it wacky and fun throwing things on us. I've never been covered in sprinkles on my face before, and I can't say it's a great physical sensation. Definitely fits with the song though."
More About Sundae Crush:
Sundae Crush is a rainbow, daydream band writing songs to crush modern ideas of romance which can be toxic and unhealthy. The daydream started with Jena Pyle (vocals, guitar, flute) and is brought into reality with Emily Harris (guitar, vocals), Daniel Shapiro (drums, vocals), and Izaac Mellow (bass, vocals). The band pairs experimentation with groovy, heartfelt pop to tint your vision to a rosy hue. They're releasing their first full length album Fall 2020.


Sundae Crush has appeared on KEXP's Audioasis and has shared the stage with Frankie Cosmos, Winter, and Peach Kelli Pop.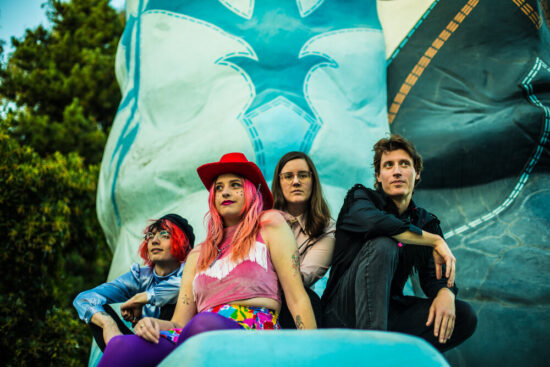 The music video is off of the band's forthcoming debut album A Real Sensation out via Donut Sounds Record Co. on November 27th. Dedicated to singer / songwriter Pyle's therapist of five years, Sundae Crush works out damage by tuning up and turning listeners on to sweet and sour anthems like "Sensation" (already premiered by KEXP), "Kiss 2 Death," and "Lick it Up."
Even with these deep themes, they play for a party we're all living out on a rainbow colored planet of fun stoner pop. Out on November 27th, make sure you tune into their newest release, and then throw on Heathers, for old time's sake.