Harry Hudson is back with the release of his music video for "Closing Doors" ft. Astrid S. The ballad is a standout track from Hudson's sophomore album titled Hey, I'm Here For You. The album captured the emotional turmoil Harry has survived. It's an album that in some ways mirrors the emotions many people have felt in the last year.
Like the album as a whole, the "Closing Doors" music video uses thoughtful simplicity and good storytelling to make something listeners are going to want more of.
There are no complex sequences or special effects in this music video. In fact, Harry and Astrid hardly move at all. It opens with Harry laying on the floor, looking at the ceiling with his hands behind his head. Then, the video cuts to Astrid looking out the window.
The video focuses in on the emotional performances, flipping between close-up clips of the two. Sometimes they're both featured together on a split screen. Even though the two never share a scene together, their harmonies blend beautifully. The chemistry their voices have is undeniable. The whole video evokes the phrase "apart but together" most of us have been hearing a lot lately.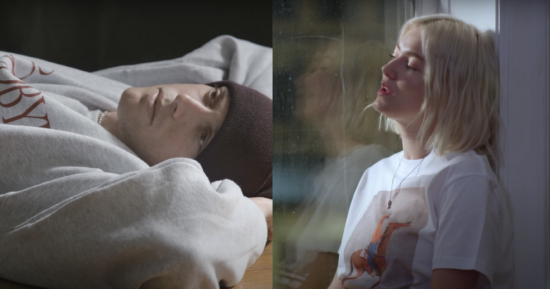 The "Closing Doors" music video follows the video for "Give Up On Us," another ballad from the Hey, I'm Here For You album. It was first released as single. Like "Closing doors," it uses simplicity and the feeling of being apart to give depth to the track.
It's clear that Harry has a unique artistic style when it comes to making music videos for the Hey, I'm Here For You. We can only hope there will be more aesthetic videos from Harry to come.
Keep up with Harry Hudson