All Things Go Fall Classic festival is going to be the best festival wrapping up 2018. Not only are there 16 incredible artists included in this year's lineup, but there is also an all-female lineup on Saturday.
Just like last year, great things are expected from every performer. The festival never fails to make this an all around joyful experience for everyone attending.
Obviously, the music is the main focus but not the only thing attracting fans. The festival goes beyond the performances with unique features. Past ones including 360 degree, slow-motion photo booths, virtual reality lounges, and spray paint wall.
They also carefully choose local food vendors to participate in the festival. Some of the vendors included in the lineup are Buredo, Compass Coffee, Jrink, Shake Shack, Sweetgreen, Timber Pizza Co, Vice Cream, and more!
Not only will you be able to experience inspiring artists and magical performances, but you'll also get to relish in an assortment of mouth watering food.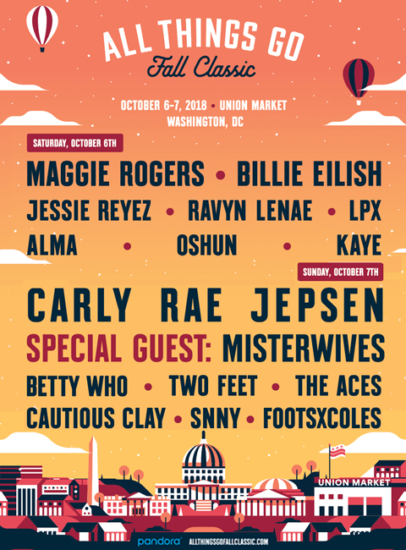 All Things Go is Here to Empower Women
The festival activities begin on Friday, October 5th with a panel called "Classic Conversations". Maggie Rogers and Lizzy Papinger are performers and also set to be curators of the panel.
The festival itself is pro-woman and encouraging of how powerful they can be and really are. This panel explores women in music and business. They hope to give fans a look into how much women do in the industry.
They have proved their female empowerment, loyalty, and safety by removing BØRNS from the lineup a few days ago. Although this was a risky move, it was brave and important that they show their fans they are here for the music and encouraging happiness and safety.
Misterwives will now be the special guests adding to the theme with a strong woman lead singer.
They continue with their women empowerment by making Saturday and all-female lineup. Maggie Rogers and Billie Eilish will be headlining this day and they are the perfect picks.
The one and only Carly Rae Jepsen will be headlining Sunday . She is not only the headliner for the all-female lineup day but also an incredible representation of powerful women.
Follow All Things Go Fall Classic: